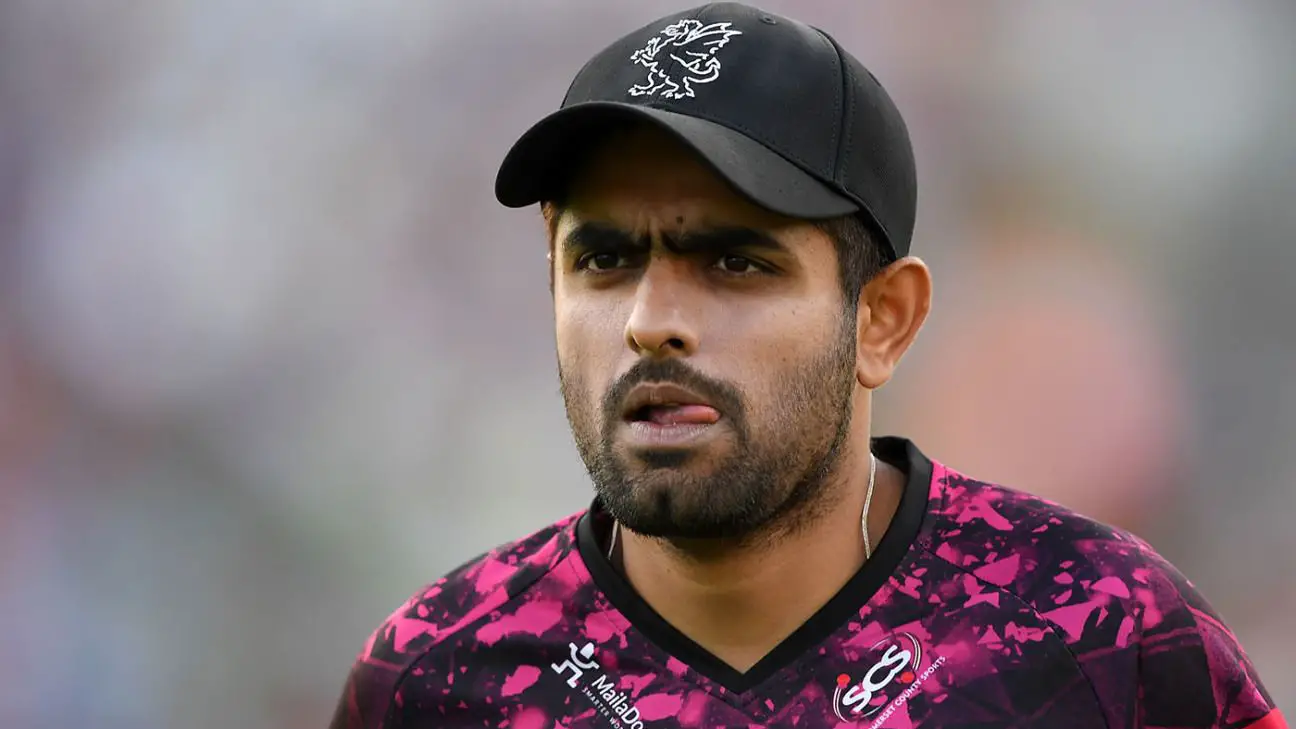 The Pakistani batting sensation, Babar Azam, is probably to get signed in for the T20 blast for Somerset once the three-match T20I series against England will be winded up.
However, the Pakistan Cricket Board (PCB) are yet to give the No Objection Certificate (NOC) to Babar that will formally make him eligible to participate in the tournament.
Notably, the contracts for Shadab Khan and Faheem Ashraf have been canceled by Surrey and Northants, respectively. On the contrary, Hampshire is yet to confirm Shaheen Shah's availability for the matches.
If on the list, the batsman will miss out on a few beginning matches due to his presence with the national side for England series. Also, his availability partially depends upon the National T20 Cup scheduled for September as if he will be a player; he has to resist County.
Reports: Babar Azam likely to play T20 blast for Somerset
Babar was the highest run-scorer in the 2019 edition of the league. He maintained his excellent form smashing 578 runs in 13 innings at an average of 52.54. He became the first Pakistani player to cross 500 Vitality Blast runs in a single edition.
In addition to that, he also has the highest number of boundaries with fifty-seven fours and fourteen sixes to his name.
The schedule took from The Cricketer:
Thursday, August 27
North: Derbyshire v Leicestershire (Leicester, 6.30 pm); Durham v Lancashire (Chester-le-Street, 6.30 pm); Yorkshire v Nottinghamshire (Headingley, 6.35 pm)
Central: Glamorgan v Worcestershire (Sophia Gardens, 6.30 pm); Gloucestershire v Northamptonshire (Bristol, 2 pm)
South: Kent v Hampshire (Canterbury, 2pm); Essex v Middlesex (Chelmsford, 2pm)
Friday, August 28
Central: Birmingham Bears v Somerset (Edgbaston, 6.30 pm)
South: Sussex v Surrey (Hove, 2 pm)
Saturday, August 29
North: Durham v Nottinghamshire (Chester-le-Street, 2 pm)
South: Middlesex v Kent (Lord's, 2 pm)
Central: Worcestershire v Northamptonshire (Worcester, 1 pm), Gloucestershire v Glamorgan (Bristol, 2 pm)
Sunday, August 30
North: Yorkshire v Derbyshire (Headingley, 2 pm)
Central: Northamptonshire v Somerset (Northampton, 2 pm), Glamorgan v Birmingham Bears (Sophia Gardens, 2 pm)
South: Sussex v Hampshire (Hove, 2pm); Surrey v Essex (Oval, 2pm)
Monday, August 31
North: Leicestershire v Durham (Headingley, TBC), Derbyshire v Lancashire (Headingley, TBC), Nottinghamshire v Yorkshire (Trent Bridge, 2 pm)
Central: Worcestershire v Gloucestershire (Worcester, 1 pm)
Monday, September 1
Central: Somerset v Glamorgan (Taunton, 6.30 pm); Northamptonshire v Birmingham Bears (Northampton, 6.30 pm)
South: Middlesex v Sussex (Lord's, 6.15pm); Kent v Surrey (Canterbury, 2pm)
Wednesday, September 2
North: Derbyshire v Durham (Chester-le-Street, 6.30pm); Yorkshire v Leicestershire (Headingley, 6.30pm); Lancashire v Nottinghamshire (TBC, TBC)
Central: Birmingham Bears v Gloucestershire (Edgbaston, 6.35 pm)
Thursday, September 3
Central: Worcestershire v Somerset (Edgbaston, TBC); Northamptonshire v Glamorgan (Edgbaston, TBC)
South: Middlesex v Essex (Lord's, 6.15pm), Sussex v Kent (Hove, 2pm), Surrey v Hampshire (Oval, 6.30pm)
Friday, September 4
North: Durham v Yorkshire (Chester-le-Street, 6.30 pm); Lancashire v Derbyshire (Liverpool, 2.30 pm); Nottinghamshire v Leicestershire (Trent Bridge, 6 pm)
Central: Gloucestershire v Worcestershire (Bristol, 2 pm); Somerset v Birmingham Bears (Taunton, 6.30 pm)
Saturday, September 5
South: Surrey v Middlesex (Oval, 6.35pm), Essex v Kent (Oval, TBC)
Thursday, September 10
South: Hampshire v Sussex (Southampton, 6.35 pm)
Friday, September 11
North: Nottinghamshire v Lancashire (Trent Bridge, 6 pm); Leicestershire v Yorkshire (Leicester, 6.30 pm); Durham v Derbyshire (Chester-le-Street, 6.30 pm)
Central: Somerset v Worcestershire (Taunton, 6.30pm); Birmingham Bears v Glamorgan (Edgbaston, 6.30pm); Northamptonshire v Gloucestershire (Northampton, 2.30pm)
South: Essex v Surrey (Chelmsford, 2 pm)
Saturday, September 12
South: Kent v Sussex (Canterbury, 2pm); Middlesex v Hampshire (Lord's, 2pm)
Sunday, September 13
North: Derbyshire v Nottinghamshire (Trent Bridge, 2 pm); Durham v Leicestershire (Chester-le-Street, 2 pm)
Central: Glamorgan v Northamptonshire (Sophia Gardens, 2 pm), Somerset v Gloucestershire (Taunton, 2 pm); Worcestershire v Birmingham (Worcester, 1 pm)
Monday, September 14
North: Yorkshire v Lancashire (Headingley, 6.30 pm)
South: Middlesex v Surrey (Lord's, 6.15pm), Sussex v Essex (Hove, 2pm), Hampshire v Kent (Southampton, 2pm)
Tuesday, September 15
North: Leicestershire v Derbyshire (Leicester, 6.30 pm)
Central: Gloucestershire v Birmingham Bears (Bristol, 2 pm); Northamptonshire v Worcestershire (Northampton, 6.30 pm)
Wednesday, September 16
North: Yorkshire v Durham (Headingley, 6.30 pm)
Central: Northamptonshire v Worcestershire (Northampton, 6.30 pm); Glamorgan v Somerset (Sophia Gardens, 6.30 pm)
South: Hampshire v Essex (Southampton, 2pm); Kent v Middlesex (Canterbury, 2pm); Surrey v Sussex (Oval, 6.30pm)
Thursday, September 17
North: Lancashire v Yorkshire (Old Trafford, 6.35 pm); Nottinghamshire v Derbyshire (Trent Bridge, 6 pm)
Friday, September 18
North: Lancashire v Durham (Old Trafford, 6.30 pm); Leicestershire v Nottinghamshire (Leicester, 5 pm)
Central: Birmingham Bears v Worcestershire (Edgbaston, 6.30 pm); Somerset v Northamptonshire (Taunton, 5 pm); Glamorgan v Gloucestershire (Sophia Gardens, 6.30 pm)
South: Kent v Essex (Canterbury, 2pm); Sussex v Middlesex (Hove, 2pm); Hampshire v Surrey (Southampton, 2pm)
Sunday, September 20
North: Derbyshire v Yorkshire (Headingley, 1 pm); Lancashire v Leicestershire (Old Trafford, 1 pm); Nottinghamshire v Durham (Trent Bridge, 1 pm)
Central: Birmingham Bears v Northamptonshire (Edgbaston, 1 pm); Worcestershire v Glamorgan (Worcester, 1 pm); Gloucestershire v Somerset (Bristol, 1 pm)
South: Surrey v Kent (Oval, 1pm); Hampshire v Middlesex (Southampton, 1pm); Essex v Sussex (Chelmsford, 1pm)
Thursday, October 1
Quarter-finals
Saturday, October 3
Also, see: