Playing Condition Of Quaid-e-Azam trophy 2019
We are very pumped up for Quaid-e-Azam trophy. Which has made its place over the years in the hearts of cricket fan world. The star international players of Pakistan have decided to disperse into different teams so that they are able to inspire and help other players learn from their experience. These include:
Captains of Quaid-e-Azam Trophy 2019
Sarfaraz Ahmed playing for Sindh
Babar Azam for Central Punjab
Shan Masood for Southern Punjab
Imad Wasim representing Northern areas
Mohammad Rizwan for Khyber Pakhtunkhwa
Lastly Haris Sohail for Baluchistan.
They shall be guiding their teammates as captains and training them to play top-class cricket. This time Pakistan Cricket Board PCB has made tremendous strategic efforts to introduce new methods into play. These new policies are well thought off to bring out the best in a player.
To keep matters interesting they have a strict fining rule for slow over-rate. The charges range from Rs.8,000 to 25,000, As this will give motivation to the players to give it their best try. Moreover, the PCB selectors can also benefit in choosing the best strikers in the house to play under pressure for future series.
The charts for the slow run rate fine:
The major change which is observed in Quaid-e-Azam trophy is the 'no toss rule' for the first time, the visiting team's captain will have the choice to bowl first after analyzing the ground conditions. If the opponent captain also chooses to bowl, then the only toss will take place.
https://www.youtube.com/watch?v=ioEVUin3g5M
A lot of players have reacted to this rule, they say it's a dream come true for them and PCB finally listened to their suggestions and allow new methods to be practised in Quaid-e-Azam trophy.
The Quaid-e-Azam Trophy has established their very own system for awarding points, the teams will be given points on the basis of their performance in the first innings. Batting and bowling both sides will have a different basis for scoring.
The team to get 16 points wins by default along with scoring bonus points.
Five points will be awarded for a drawn game.
Nine points means a tied game.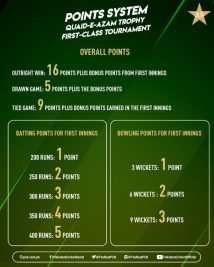 The teams will get about 1 to 5 points for scoring between 200 to 400 runs depending upon how much they can score in 110 overs of their first innings. Likewise, the bowling side will be awarded 1 point for every three wickets they can get in the first innings of their game.
As said by the PCB spokesmen: "The additional point system will encourage teams to play positively throughout the match."
As far as the final of Quaid-e-Azam trophy is concerned which is taking place on 9-13 Dec, if the first inning is not completed within the allotted time period then the match will be continued on an alternative day till both sides are done with their first innings.
Last but not the least of the new policies, this time in Quaid-e-Azam trophy a team can get approval for an international player to join their team, getting a No Objection Certificate (NOC) by the PCB and also the squad of their team. This allows international relations to be built and grown stronger.
The PCB Director Haroon Rashid said in an interview that he is hoping to reduce the gap between international and domestic cricket, which made these changes necessary.