Vitality T2O Blast: Morgan Special leads Middlesex into the Quarter Finals
In Friday's clash between Middlesex and Somerset, Morgan came to the party as he finished unbeaten 83 of just 29 balls. His unbelievably quick 83 came courtesy of eight sixes and five fours. Courtesy of Morgan's fire-power batting, Middlesex chased down a mammoth total of 227 against Somerset with six wickets and three overs to spare. It is also the highest run-chase in the tournament and the third highest in the history of T20 cricket.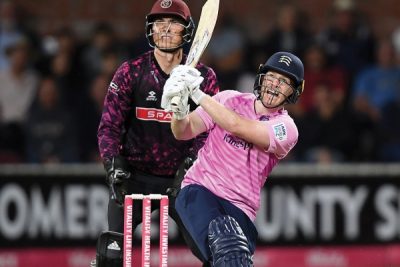 Morgan's Sublime form: Middlesex expected to do well in the Vitality T20 Blast Finals
With Morgan showing fine form and his ability to score quickly in crucial games, Middlesex could be on the verge of closing its current Vitality-run on a high. Morgan, who demonstrated extensive power-hitting capacity, earlier in the World Cup against Afghanistan, has continued his top-notch form in the tournament and looks pretty confident to do well in the upcoming games.
While a post-match media conference, Morgan told that they (Middlesex) have enough fire-power to continue playing good cricket in the subsequent games. He appreciated what the top order possess, especially the likes of David Mallan (41), who with his opening partner, Paul Stirling (25) put up a show of high-quality power-hitting in the initial overs. The opening pair contributed 66 to the total off just 24 balls. Morgan believes that though batting is their strength, bowlers need to improvise to help the team have a better impact in the upcoming matches.
Somerset set up 226 in the first innings, contributions coming from the top line-up including Tom Abell, who scored his 1st t20 century from just 46 balls, with a strike rate over 200. Followed by this scintillating ton, there were quick cameos from the middle order to steer Somerset to 226/5 at the end of the proceedings.
Max Weller Catch: A Ben Stokes Replica from the
In reply, Middlesex opening pair got the team off to a flier. T20 specialist, Ab de Villiers joined the crease with Mohammad Hafeez. The Pakistani veteran fell for 12, whereas De Villiers cameo of 32 off just 16 came to an end courtesy of Max Weller's sensational catch at deep mid-wicket. The catch was a reminder of a shocker that Ben Stokes took against RSA at the WC. It was then Eoin Morgan who joined partner George Scott. Morgan took the game away from Somerset, with his elegant shot selection coupled with powerful hitting. The English skipper put up 99 off just 40 balls with his partner to help Middlesex secure a position in the Quarter-Finals.
In-form Batting line-up showing good signs for Middlesex
Moving to the quarter-finals, Middlesex has a scheduled game against Nottingham on Thursday. With aggressor David Malan continuing his good touch, and T20 veterans, Mohammad Hafeez and Ab de Villiers continuing their good run in the tournament, coupled with the world cup winning captain, Morgan's amazing summer-run, Middlesex has enough firepower to give us a cracker of a contest against Nottingham. And, it will not appear to anyone's surprise if this bunch of fire-power ushers Middlesex into the Semi's.