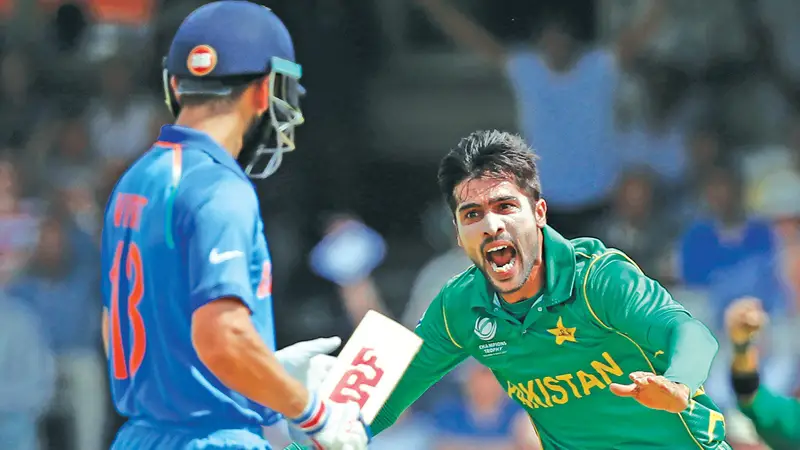 Fans often discuss Mohammad Amir majestic spells especially when he traps a classical batsman like Virat Kohli. M. Amir must have made ICC Champions Trophy 2017 memorable for Pakistani fans and miserably unforgettable for Indian fans.
The finals of ICC Champions Trophy 2017 was the day when sleep got impermissible for Indians. After the height of mocks, they fall into the dungeon themselves when Sarfaraz and the side lifted the Champions Trophy. M. Amir had been the bombastic figure as his first spell went fabulous trapping Rohit Sharma on a duck off 3 balls on the second ball. Moving ahead to the fourth ball of the second over to the so-called "King Kohli", he sent Kohli to the pavilion when he reached a sarcastic milestone of 5 runs on 9 balls.
Shikar Dhawan at third was then "Shikaar" of Amir who was a bit fortunate than his fellows Rohit and Kohli as he went for 21 of 22.
However, Virat Kohli is always known to be the consistent batsman among all formats of the game. Team India's strength almost came from him. He has got a huge fan base but in Champions Trophy 2017, Amir smashed his dreams of signing autographs to the fans at Lord's.
However, the post is to wish the Pakistani fast bowler having awesome memories with Virat Kohli, a very Happy Birthday in a nostalgic way with some special memories. Look at the video below to recall glimpses of ICC CT17 finals Pak vs Ind:
Also, read: