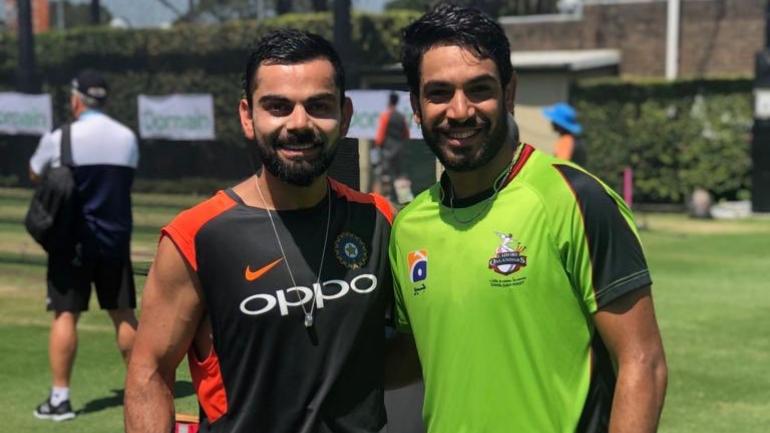 ICC has organized its upcoming mega-event known as the ICC T20 World Cup for the window of October but the global crisis, Coronavirus, has halted every cricket activity across the globe. Things are tucked and schedules are interrupted. However, the players are in full mood and are ready to take part in the T20 World Cup.
The shining star of the Big Bash League (BBL) in 2019, Haris Rauf, the Pakistani speedster ended up a fourth-highest wicket-taker of the tournament. He worked gloriously on the conditions Australian pitches possess. His potential in the BBL let the PCB's selectors pick him up for the national squad later on. Haris, an aggressive speedster is all set to take part in the T20 World Cup and there are possibilities that the management will pick him up as per his prior performances.
In an interview with Pak Passion, Haris Rauf was asked that what he will consider as his biggest challenge. Haris replied that he sees Virat Kohli and Rohit Sharma as his biggest challenge to bowl in the upcoming event,
Virat Kohli and Rohit Sharma have always been consistently performing for their team. They have been the backbone of India Cricket Team and bowlers are usually tough on the players like them. Haris has also chosen these both Indian players as his biggest challenge in the T20 World Cup.
"This being a World Cup competition, the quality of opposition will be very tough as top players from each country will be playing in it so all batsmen will be difficult to bowl to. But looking at the top T20I players in the world, to be the greatest challenge will come from the likes of Virat Kohli and Rohit Sharma," Rauf said during an interview with PakPassion.
"To do well against such top-quality batsmen will do wonders for my confidence and to be honest, based on my experience in BBL, I should be able to do well in the World Cup if given the chance. It is my nature that I don't let any batsman dominate me and that is how I did so well in BBL 09 even against such quality batsmen like Steve Smith, as I didn't allow him to put any pressure on me at all," he said.
Also, read: