Pat Cummins to skip Perth T20I against Pakistan
Australian fast bowler, Pat Cummins will not be taking the long haul trip to Perth for the final T20I against Pakistan and back to rest his body ahead of the Test series against the same team. Cummins will instead, get some red-ball practice ahead of the two-match Test series against Pakistan.
Cummins did not travel to Perth with the rest of the Australian squad for the third and final T20I against Pakistan. He traveled to Sydney where he will represent his state side New South Wales in the next round of Sheffield Shield games starting from November 11.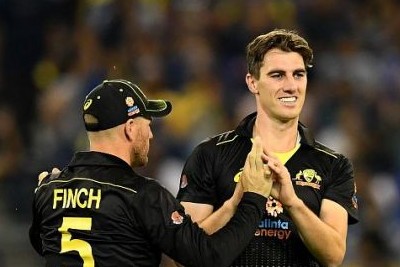 The Australian pace spearhead, Pat Cummins made his international debut in 2011 against South Africa. He has played 58 ODIs, 25 Tests, and 25 T20Is since then. He has claimed 123 wickets in Test, 96 in ODIs, and 32 wickets in T20Is. He is currently ranked no. 1 in ICC Test Bowling Rankings. In his last T20I against Pakistan, he claimed 1 wicket after conceding just 19 runs from his 4 overs.
Justin Langer about Pat Cummins skipping Perth T20I against Pakistan:
The Australia's Head Coach, Justin Langer said that the decision to rest Cummins was made for his recovery and to prepare him for the upcoming two-match Test Series. He added that Australia has a lot of cricket going on these days and Pat Cummins play a lot of it, so they decided to use this opportunity to let him rest,
Justin Langer said that they have used these opportunities to rest some of their players but they need to get better at it as it is a priority of Australian cricket. He added that they want to play their best players as often as they possibly can.
He talked about his team being a good defensive one. He said he thought for about seven or eight years about the importance of how you bowl and how you field. He said that Australia is lucky to have such a great depth of squad and they are working towards building their bowlers to be able to get the job done for them.
The Test leg of Pakistan's tour of Australia will begin from November 21. The third and final T20I is scheduled for November 8.
The first T20I between Pakistan and Australia was abandoned due to rain after Pakistan scored 107 runs in the 15-over match in the first innings. The second T20I resulted in Australia's favor where Australia defeated Pakistan by 7 wickets, owing to Steven Smith's outstanding batting performance.
In the second T20I, Steven Smith scored an unbeaten 80 runs from 50 deliveries to secure the game for his team and win the match by 7 wickets with 9 balls remaining. Pakistan's side scored150 runs while batting first. Pakistan's new captain Babar Azam and middle-order batsman Iftikhar Ahmed played a vital role in amassing the total.
Before their series against Pakistan, Australia faced Sri Lanka in 3-match T20I series where they whitewashed Sri Lanka by defeating them in all 3 matches in a very dominant fashion.
Australia Cricket Team defeated Sri Lanka by 134 runs in the first T20I, by 9 wickets with 42 balls remaining in the second T20I, and by 7 wickets with 14 balls remaining in the third T20I of the series. David Warner stood out with his brilliant batting throughout the series. He remained unbeaten after scoring a total of 217 runs in all 3 matches and he was also named the "Player of the Match" in all 3 matches as well as the "Player of the Series".