Pakistan Cricket Team ready to take on Sri Lanka:
Pakistan is set to take on Sri Lanka tomorrow in the first Test of the 2-match home Test series. Pakistan has lost all the last 5 Test matches they have played in the past 12 months, but they are determined to end their losing streak before the end of the year. They recently had a difficult time against Australia in the 2-match Test series, where Pakistan lost both the matches by the difference of an innings. They also lost the limited-over series against Australia and Sri Lanka before that.
It has not been a very good year for Pakistan cricket in the T20I and Test format. Despite being the no. 1 T20I side in the world, they have won only 1 game out of the last 10 T20Is they have played since the start of the year, and are currently on a losing streak of 6 matches in the shortest format of the game.
Pakistan also made a lot of changes after the end of the ICC World Cup 2019. They brought in Misbah-ul-Haq as the head coach and chief selector, sacking Inzamam-ul-Haq and Mickey Arthur from their roles. Sarfaraz Ahmed was also sacked from the role of the captain in all formats. Babar Azam became the new T20I captain, while Azhar Ali was handed the Test captainship.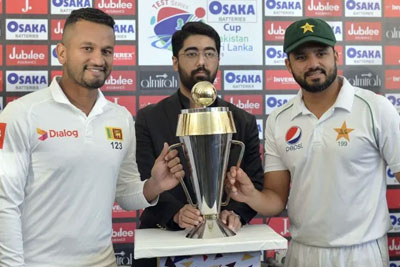 Azhar Ali talks about his preparations to face Sri Lanka in home Test:
Azhar Ali, Pakistan's Test Captain, intends to put the past behind and sees this home Test series against Sri Lanka as an opportunity to get back on the winning track. Pakistan will be playing a home Test after a decade since the last Test was abandoned due to the terrorist attack on the Sri Lanka cricket team in 2009.
Mickey Arthur, who had been Pakistan's head coach from May 2016 till August 2019, will also be returning to Pakistan. However, this time, he will be coming with the Sri Lanka Cricket team as their consultant and soon-to-be head coach.
"Good players cope because they also know that they will be attacked on their weaker points, so they work with a counter-attack. Yes, Mickey does have a lot of insight about us, but we are also ready and believe that whatever the challenge he will throw at us, we will counter." Said Pakistan's Test captain, Azhar Ali.
Pakistan's last Test series against Sri Lanka in the UAE in 2017 resulted in a 2-0 loss for them, also bringing an end to their record of not losing a home Test series since moving to the UAE. Pakistan played a total of 9 Test series in the UAE between 2010 and 2017 and won 5 of them, while 4 of them ended in a draw.
Azhar Ali said about the Sri Lanka cricket team that you can never take them easily, and they always have been a fierce opponent regardless of whether they are playing at home or away. He added that Sri Lanka's bowling and batting is much disciplined, and to challenge them, they will also have to come hard and be disciplined. He also said that Test cricket demands discipline and consistency, you cannot win in one session but lose in another session.
Azhar also expressed his excitement to be back at home and see the crowd again on the grounds. He said that it was a moment of joy for not the players alone but for the entire nation. He also added that they will do their best to rectify the mistakes they have made recently, and will improve wherever they have been lacking.