Fawad Alam makes his return to Test cricket after a decade:
Pakistani top-order batsman Fawad Alam, who played his last Test in November 2019, is set to make his return in the upcoming 2-match home Test series against Sri Lanka.
Fawad Alam has played a total of 3 Test matches in his career, after making his Test debut against Sri Lanka in July 2009. He scored a total of 250 runs in 6 innings, with 1 hundred and an average of 41.66. After his last Test against New Zealand in 2009, where he scored a total of 34 runs in the match, Fawad was dropped out of the team.
My love and compassion for cricket can never die. Humbled to have been selected once again to represent my country. Alhamdulillah!

— Fawad Alam (@iamfawadalam25) December 8, 2019
Fawad played a total of 38 ODIs after his ODI debut against Sri Lanka in May 2007. He scored 966 runs with an average of 40.25. He made his last international appearance in the ODI against Bangladesh in April 2015, where he scored 4 runs off 9 balls as Pakistan lost the match by 8 wickets.
Since then, despite his absence from international cricket, he has continued to perform at the domestic level consistently. He kept up his brilliant performance in the Quaid-e-Azam Trophy and scored the most runs [3105] in the tournament with an average of 56.45. He recently scored a double century against Southern Punjab in the QA trophy, while also crossing 12000 first-class runs with an average of 56.84. Fawad has also scored 34 hundred and 60 half-centuries in his first-class career so far.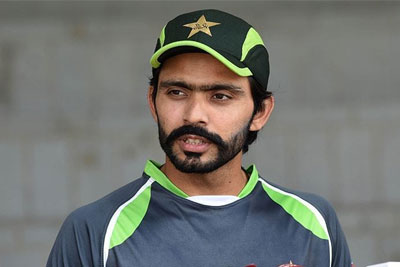 Fawad Alam talks about his return to International Cricket:
Fawad said to the reporters in Karachi that it feels like a debut to him because it has been such a long time since he last played for Pakistan. He added that whether he gets a game or not, it depends on the team management and selection committee. He said that he is happy to be a part of the final 15, and he is confident that he will perform if given a chance.
He put aside the concerns regarding the pressure affecting his performance since the second Test will be played in his hometown of Karachi, saying that the pressure of performance always remains with you, but his job is to overcome it and try to deliver his best.
He said that he will try to enjoy the opportunity that has been given to him and think positively about his future. He made it clear that his aim is to make the most out of this opportunity and try to perform to the best of his ability.
Inzamam-ul-Haq, Pakistan cricket team's former chief selector, made remarks about "seeing better players than Fawad" and also compared him to Mark Ramprakash. When asked about Inzamam's comments, Fawad called it a matter of honor to be compared to someone like Ramprakash.
He said that it is an honor for him to have his name tied to Mark Ramprakash, who scored more than a hundred centuries, and he is there to perform to his best and prove his doubters wrong. He also said that he respects Inzamam-ul-Haq and does not think it is appropriate for him to respond to Inzamam-ul-Haq's comments.
Happy & excited to play on big occasion of Test cricket returning to Pakistan. ?? Thankful to Almighty for his blessing. Now waiting to see huge crowds in our home stadiums in sha Allah ?? pic.twitter.com/uLB3MumrJ0

— Fawad Alam (@iamfawadalam25) December 7, 2019
He talked about the return of Test cricket to Pakistan, saying that it is an excellent thing to see Test cricket back in the country after such a long time. He added that the fact that Test cricket is returning after such a long time means all cricket fans will want to get down to the stadium and support their team as well as Test cricket.
The first Test between Pakistan and Sri Lanka will be played in Rawalpindi on December 11, while Karachi will host the second Test starting from December 19