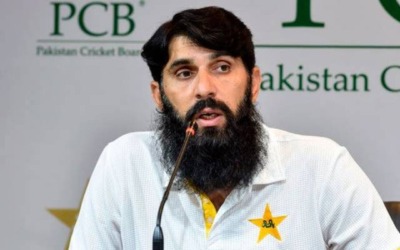 Pakistan's head coach and chief selector, Misbah-ul-Haq has opposed the reduction of Test cricket to 4-day Tests.
International Cricket Council (ICC) is considering shortening the format of 5-day Tests to 4-days to save the days on the calendar which is crowded with T20 leagues and bilateral series. The change is expected to take effect in the next World Test Championship season.
However, they are not the only ones against the issue. Virat Kohli, Nathan Lyon, Chris Gayle, and Vernon Philander are also against the changes to Test cricket, along with many coaches and former cricketers. Glenn McGrath, Ravi Shastri, Mahela Jayawardene, and Mickey Arthur have also opposed the changes.
Pakistan's head coach Misbah-ul-Haq said: "First of all, there is no clarity at this point about how it will be taken forward. Will it be 90 overs a day? 96? Maybe 110 overs to compensate for the fifth day?
"If you look at the conditions in Asia, especially in Pakistan, we barely manage to get 90 overs a day because the cricket season here is mostly during the winter. We don't get long days in winter, or enough to complete even 90 overs. We lose 10-15 overs a day routinely. If you lose those across a four-day Test, with 360 overs, the match effectively becomes a three-and-a-half-day affair.
"If that's the case, a lot of teams will become negative – if they fall even slightly behind in a match, they'll go straight for the draw. The results ratio is already pretty low, that will worsen and people's interest in Tests will dip. They want results. In a five-day match, even if there's rain in the middle, there's still enough time to try and force a result."
Misbah also said that the implementation of 4-day Test cricket will affect fast bowlers a lot. The bowlers who continuously bowl between 145-150kph will have to bowl 25-26 overs from 18 overs, which will result in their quality of bowling be compromised.