Misbah-ul-Haq criticizes Amir and Wahab for their Test retirements:
Pakistan's head coach and chief selector, Misbah-ul-Haq, has spoken about how Pakistan is lacking any experienced bowlers in the longest format of the game. Misbah criticized Mohammad Amir and Wahab Riaz for their timing of retirement from Test Cricket.
Mohammad Amir took retirement from Test cricket in July 2019, while Wahab Riaz announced an indefinite break from red-ball cricket in September. Amir made the decision to manage his workload better and focus more on the limited-over format of the game, as well as to take part in T20 leagues happening all around the world. Wahab Riaz's also made the decision for the same reason to focus on his limited-overs career.
Wahab Riaz played 27 Test matches in his career after his Test debut in 2010 against England and claimed 83 wickets at an average of 34.50. Mohammad Amir, while his career was divided into two parts following the spot-fixing case, played a total of 36 Test matches, taking 119 wickets with an average of 30.47.
But the problem is that Wahab Riaz is 34 years old, while Mohammad Amir was 27 in July 2019. Pakistan lost two of its most experienced bowlers in a single year, which eventually restricted Pakistan's fast-bowling options to inexperienced youngsters like Naseem Shah, Shaheen Shah Afridi, and Mohammad Musa.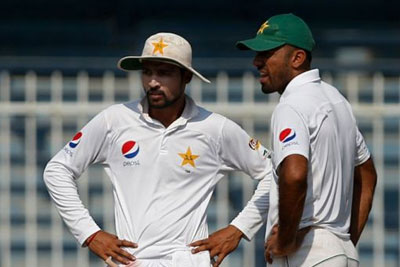 Misbah-ul-Haq speaks about the need for a policy:
Misbah said that they are thinking and will introduce a policy soon, as this might become a problem for Pakistan, going forward. He added that when u invest so much in the players on their development and expect them to give back, they leave the game, and it is not the right way to go about it.
Misbah-ul-Haq emphasized on the need for a specific policy to make sure that the players are available for Pakistan first.