Shan Masood, Azhar Ali fails to impress as Pakistan falls on 191:
Pakistan opener Shan Masood scored only 5 runs in Pakistan's first innings against Sri Lanka in the 2nd Test. On the other end, the burden of captaincy is proving too much for the new Test captain Azhar Ali, as he has been unable to deliver with the bat.
Pakistan has played 3 Test matches in the past few months and is currently playing its 4th Test against Sri Lanka. Unfortunately, Pakistan has not won any of them and, chances are, they might lose this 4th one as well. In all those Test matches, Pakistan has suffered the most with their weak batting.
Australia played 1 inning in both their Test matches and it was enough to make Pakistani batsmen lose 20 wickets as they lost both games by the difference of an innings.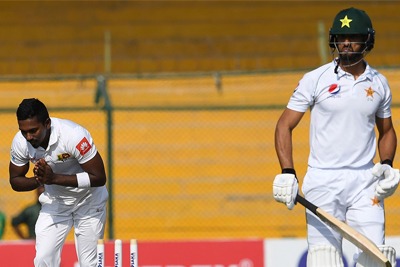 Pakistan requires Shan Masood and Azhar Ali to perform to win:
Shan Masood made his Test debut in 2013 against South Africa, and he has played 18 Tests since then. He has scored 949 runs with an average of 27.11, along with a century and 6 half-centuries.
Since the start of 2019, Shan Masood has played 9 innings and scored only 300 runs with an average of 33.33. The point is that Shan Masood needs to perform, or otherwise it would be better if Misbah-ul-Haq, Pakistan's head coach and chief selector, dropped him and brought someone else in his place.
On the other end, Azhar Ali has scored only 98 runs in his last 5 innings with an average of only 19.6 after becoming the new captain of Pakistan in Tests. He lost his wicket without scoring any runs in Pakistan's first innings against Sri Lanka in 2nd Test.
Azhar Ali is one of Pakistan's most experienced Test players, and he has scored more than 5700 runs in 76 Tests with an average of 42.40, but it appears that the burden of captaincy is costing him his batting.