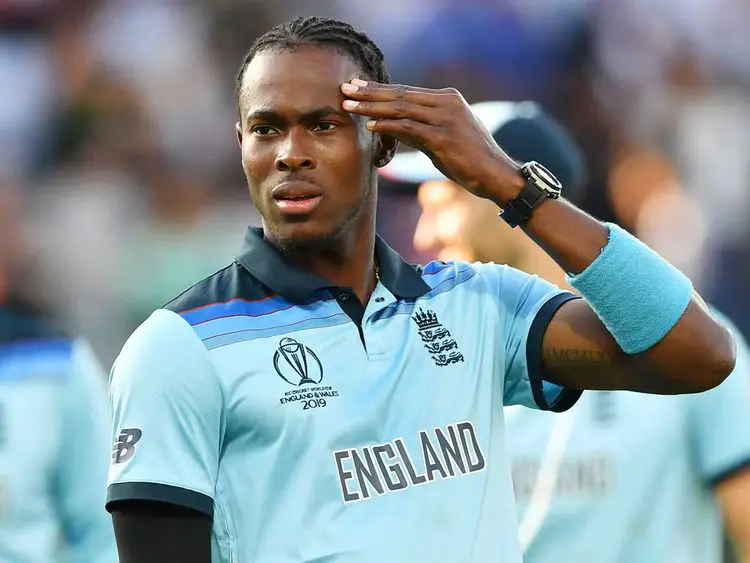 Jofra Archer, the finest speedster from England Cricket Team, has disclosed that he has lost his ICC World Cup 2019 medal.
Recently, during shifting his house, Archer's medal got misplace which he received as appreciation at Lord's stadium after England beat New Zealand in the finals of the ICC World Cup 2019.
The combat between the two sides was something that can never be forgotten. Jofra Archer was given the huge responsibility to bowl a super over to Kiwis. He restricted them before they would have reached the milestone and the number of boundaries decided England as the winners.
The medal must have been of great value to him as he contributed to lifting the trophy at home. The paceman revealed that he has already tried finding the valuable medal doing the house upside down, but could not find. He said that he will continue finding it and will not sit vacant until he succeeds in finding it.
While talking to a radio station, Archer revealed,
"I had it hanging off a portrait someone did for me and sent to me, I had my medal hanging on that. I moved flat and the picture is on the new wall but there's no medal. I turned the house upside down for about a week but I still haven't managed to find it. I know it should be in the house so I will keep my eyes out for it but I've gone mad looking for it already," Jofra Archer said.
He also revealed that there is nothing to do during the lockdown. England and Wales Cricket have also been suspended till 1st June and till then, no professional cricket would be played.
"There's nothing else to do in isolation. It's all hands on deck," the pace bowler added.
Also, read: