Central Punjab defeats Northern to claim the title:
Central Punjab defeated Northern in the Quaid-e-Azam Trophy Final at Karachi in the most dominant fashion. Central Punjab won the match by a margin of an innings and 16 runs.
Umar Akmal and Bilal Asif shared the "Player of the Match" award as Bilal Asif celebrated his 11-wicket match haul, and Umar Akmal starred with his double-ton in his team's solitary innings in the Quaid-e-Azam Trophy Final. Central Punjab's Zafar Gohar was named the "Player of the Series" for his outstanding all-round performance throughout the tournament.
Other than that, Balochistan's Imran Butt scored the most [934] runs in the tournament with Central Punjab's Kamran Akmal coming second with [906] runs and Salman Butt third with [901] runs.
Northern's Nauman Ali was the leading wicket-taker with [54] wickets, while Central Punjab's Bilal Asif was second with [43] and  Zafar Gohar, third with [38] wickets in the Quaid-e-Azam Trophy.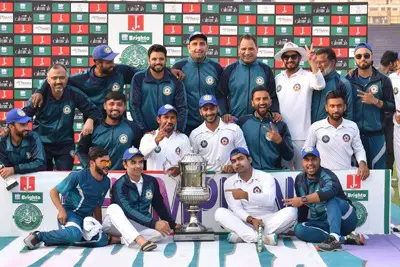 Northern Punjab vs Central Punjab, Quaid-e-Azam Trophy Final:
Northern Punjab won the toss and opted to bat first. They had a rough start to their innings as they had lost 5 wickets for just 69 runs. Faizan Riaz and wicketkeeper-batsman Rohail Nazir shared a 155 runs partnership to bring their team back on track.
Faizan Riaz scored 116 runs from 133 balls with 14 fours, while Rohail Nazir scored 80 runs from 115 balls before losing his wicket to Bilal Asif. Aside from Rohail Nazir and Faizan Riaz, no other batsman from Northern was able to do much against Central Punjab's bowling attack in the first innings as the finished on 254 runs.
Faheem Ashraf led the bowling attack with his 5 wickets for 54 runs in his 14 overs. Bilal Asif claimed 3 for 37 runs in his 10 overs. Aizaz Cheema secured 2 wickets for his team.
Central Punjab came to bat. They lost their opener Ahmed Shehzad quite early for just 20 runs from 22 deliveries. Salman Butt added 74 runs from 94 balls. Pakistan's national team's Test captain Azhar Ali scored a magnificent hundred and lost his wicket after scoring 119 runs from 212 balls.
Central Punjab's skipper Babar Azam could only score 69 runs. Umar Akmal played the innings of his life as he scored 218 runs from 265 deliveries to further strengthen his team's position into the game. Zafar Gohar missed his hundred by just 1 run as he lost his wicket to Faizan Riaz after scoring 99 runs. Central Punjab declared their innings on 675/8.
Mohammad Musa, Nauman Ali, and Faizan Riaz claimed 2 wickets each while Hammad Azam and Sadaf Hussain took 1 wicket each.
With a huge trail of 421 runs on their backs, Northern came to bat in their second innings. Haider Ali and Zeeshan Malik tried to give a decent start to their team but Zeeshan Malik fell for 38 runs from 56 balls. However, Haider Ali scored a steady 134 from 204 balls with 22 fours before getting bowled by Bilal Asif.
Faizan Riaz, who scored a century in the first innings, could only contribute 22 runs from 47 deliveries. Umar Amin added 17 runs from 45 balls.
Wicketkeeper-batsman Rohail Nazir played a sound innings of 70 runs from 96 balls, while Ali Sarfaraz added 81 runs on the board. After the fall of Ali Sarfaraz on 400/6, Northern bundled out one after the other at the hands of Bilal Asif as Northern lost all of their wickets on 405 runs, and tasted defeat by an innings and 16 runs.
Bilal Asif had claimed 8 wickets for 112 runs in his 31.3 overs in the second innings. In total, he had claimed 11 wickets for 149 runs in his 41.3 overs. Ehsan Adil and Faheem Ashraf also secured 1 wicket each for their team.
Central Punjab lifted the Quaid-e-Azam Trophy as the champions.