Will Somerville called up as Trent Boult's replacement for SCG Test:
New Zealand's off-spinner, Will Somerville, has been called up as Trent Boult's replacement for the Sydney Test. The off-spinner made his Test debut against Pakistan in December 2018. Will has played 3 Tests and secured 14 wickets with an average of 25.14. He played his last Test against Sri Lanka in August 2019, where he claimed a total of 3 wickets.
Trent Boult was ruled out of the third Test against Australia at SCG after getting hit on his gloves while batting in New Zealand's first innings of their 2nd Test. He suffered a fracture to the second metacarpal of his right hand. It is expected that Trent Boult will be resting for at least four weeks.
Alongside Todd Astle and Mitchell Santner, New Zealand now has 3 spinners including Will Somerville.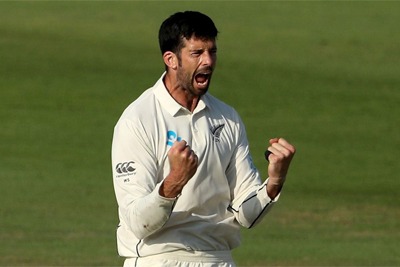 Gary Stead speaks about Will Somerville inclusion in the squad:
The decision to bring in an off-spinner in place of a fast bowler was taken due to the SCG pitch offering more to the spinners.
New Zealand's coach, Gary Stead, said that the SCG pitch favors spin. He added Will Somerville's experience in Sydney would prove helpful to the team.
"There's no secret the SCG pitch is one of the more spin-friendly in Australia. Will offers something different to our two other spinners in the squad with his right-arm offspin and height. The fact he's played a lot of cricket in Sydney during his career for New South Wales will also be helpful as we prepare for this final Test," Gary Stead said.
New Zealand has already lost the 3-match Test series by 2-0 against Australia after facing defeat in the first two Tests. The third and final Test will start from January 3 at Sydney Cricket Ground.