Bangladesh Twenty20 Tri-Series:
Bangladesh Twenty20 Tri-Series is an ongoing series taking place in Bangladesh between Afghanistan, Zimbabwe, and Bangladesh.
A total of 3 matches have been played in the series where Afghanistan won 2 and Bangladesh won 1 while Zimbabwe has yet to win a match.
Bangladesh vs Afghanistan 3rd Match:
Afghanistan: 164/6
Bangladesh: 139 (19.5/20 overs, target 165)
Afghanistan won the match by 25 runs.
Afghanistan won the toss and elected to bat first. This Decision did not look very good at the beginning of the match as Afghanistan lost its early wickets very quickly.
Afghanistan looked troubled from the very first ball of the game as their wicketkeeper-batsman and opener, Rahmanullah Gurbaz got bowled by Bangladesh's Mohammad Saifuddin on a duck on the very first ball of the game.
Bangladesh had a very sound start. Bangladesh's bowlers brought Afghanistan to a score of 4-40 during the powerplay around the end of the 6th over with their incredible bowling.
During this time of crisis, it looked as if Afghanistan's whole batting lineup would crumble down before they could even score 100 runs and that their unstoppable winning streak would come to an end in this match by Bangladesh but Afghanistan's Asghar Afghan and Mohammad Nabi had other plans. Asghar Afghan and Mohammad Nabi made sure to not give an easy time to Bangladesh as they brought the score to 164/6 towards the end of the game.
Asghar Afghan of Afghanistan's 40 off 37 with 3 fours and 2 sixes provided the stability to support Mohammad Nabi's assault on the other end, who smacked 7 huge sixes and 3 fours to score 84 runs off 54 balls despite coming to bat at a very critical stage when Afghanistan was just 4/40. Afghanistan's Mohammad Nabi and Asghar Afghan made the partnership of 79 runs to stop Afghanistan from collapsing further before Asghar Afghan got dismissed by Bangladesh's Mohammad Saifuddin.
Mohammad Nabi's explosive hitting and Asghar Afghan's support somehow pushed Afghanistan to the score of 164/6 in the 20 overs.
Mohammad Saifuddin took 4 wickets for 33 runs, Shakib al Hasan took 2 wickets for 18 runs with 1 maiden over.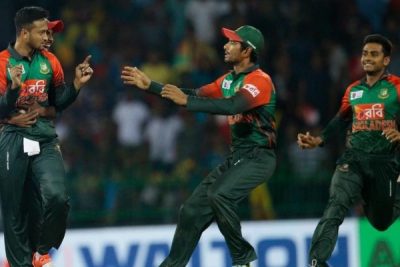 Bangladesh's turn to bat:
Much like Afghanistan, Bangladesh lost both their openers at a very early stage of the game. Liton Das of Bangladesh went out on a duck on the second ball of the innings. Bangladesh's wicketkeeper-batsman and opener Mushfiqur Rahim also scored just 5 runs off 3 balls. Bangladesh had lost their first two wickets at the score of 11/2. The captain of Bangladesh cricket team, Shakib Al Hasan was also unable to do anything and went out soon afterward scoring 15 runs off 13 balls. Bangladesh's batting line up did not have much to offer as their highest scorer was Mahmudullah who scored just 44 runs off 39 balls by hitting 5 fours. Bangladesh lost all of their wickets very quickly and collapsed entirely on just 139 runs at 19.5 overs with 1 ball to spare.
Afghanistan's Mujeeb Ur Rahman played a major role in bringing down Bangladesh on just 139 runs with his 4 wickets for 15 runs. Mujeeb Ur Rahman bowled 14 dot balls. Fareed Ahmad, Rashid Khan, and Gulbadin Naib contributed 2 wickets each towards the demise of Bangladesh's batting lineup.
Player of the Match was awarded to Mohammad Nabi for his excellent and much required 84 runs off 54 balls to carry Afghanistan to victory against Bangladesh.
Afghanistan continues to win matches one after the other. They continue to show us again and again that they not to be taken lightly at any cost.