Scotland vs Netherlands:
Scotland: 252/3
Netherlands: 194/7 (20 overs, target 253)
Scotland wins the match by 58 runs.
Scotland defeated the Netherlands in an overwhelming fashion in the 2nd match of the Ireland Tri-Nation T20I series at Dublin by 58 runs.
Scotland piles records:
The Netherlands won the toss and elected to field first. Scotland came to bat and piled up the huge total of 252 for 3, their highest ever and the sixth-highest overall total in T20Is.
Scotland's captain Kyle Coetzer and George Munsey stopped at nothing as they smacked boundary after boundary, contributing to the opening stand of 200 runs for Scotland.
Scotland's opening batsman George Munsey remained undefeated with his maiden T20I hundred. George Munsey made 127 runs off just 56 balls by smacking 14 sixes and hitting 5 fours. George Munsey's 100 for 41 balls is the third-fastest hundred in the T20Is. Scotland's Captain Kyle Coetzer supported George Munsey on his assault with his own 89 runs off 50 balls with the help of 11 fours and 5 sixes. George Munsey and Scotland's captain Kyle Coetzer made the third-highest stand for any wicket in the T20Is together.
Scotland's George Munsey also made the record of the second-highest number of runs made in an over by hitting Max O' dowd for four sixes and 2 fours, a total of 32 runs. Only Yuvraj Singh of India stands at the top of the list with his 6 sixes off 6 balls against Stuart Broad of England in 2007, a total of 36 runs in a single over – the highest ever in T20 internationals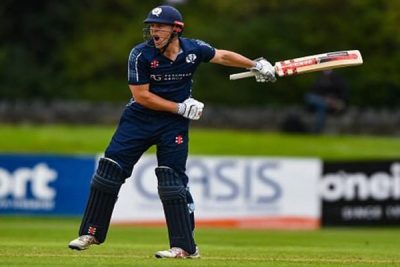 Netherlands' efforts against Scotland:
The Netherlands was unable to stop Scotland's onslaught but they at least managed to slow it down towards the end with the help of their bowler Shane Snater who took a few quick wickets or Scotland might have scored the highest ever total in T20 internationals. Shane Snater of Netherlands took all 3 wickets and conceded 42 runs for the Netherlands. Netherlands' bowing attack looked quite helpless against Scotland's opening pair of their captain Kyle Coetzer and George Munsey as the Netherlands tried out as many as 7 bowlers and only 1 of them conceded less than 10 runs per over.
While chasing the seemingly unachievable target of 253 runs, Netherlands lost their opening batsmen quite early. Netherlands opening batsman Tobias Visee got out on a duck while the other opening batsman Max O'Dowd only made 15 runs off 13 balls before being run out by Michael Leask. The Netherlands had lost 3 wickets for just 18 runs in the 4th overs of their innings. Netherlands was at the brink of collapsing entirely but their captain Pieter Seelaar played his part as the captain and carried Netherlands on his back with the help of Netherlands' wicketkeeper Scott Edwards. Together Pieter Seelaar and Scott Edwards took a stand of 64 runs for the fifth-wicket. Scott Edwards scored 37 off 19 balls by hitting 5 fours and 1 six. Netherlands' captain Pieter Seelaar played a remarkable innings of 96 runs off 49 balls by hitting 9 fours and smacking 5 sixes. Even though Pieter Seelaar remained undefeated with his 96 of 49, that still was not enough to bring the Netherlands close to victory as Netherlands finished 194/7 after 20 overs.
Scotland's Alasdair Evans and Adrian Neill took 2 wickets each while Mark Watt and Richie Berrington took 1 wicket each.
Scotland's George Munsey was awarded the player of the Match because of his ferocious hundred that propelled Scotland towards scoring their highest ever total of 252 runs and made sure they win the game in a remarkable fashion.