Bangladesh Cricket Board (BCB) announces squad for ICC U-19 World Cup:
Bangladesh Cricket Board (BCB) has announced their squad for the ICC U-19 World Cup, which will be played next year in South Africa.
The U-19 squad does not include a 17-year-old leg-spinner, Rishad Hossain. Junior level selector Hannan Sarkar explained to a cricket blog website that they have not picked Rishad Hossain as he is now in their HP unit and they do not want to bring him back from there. He added that they play one genuine spinner in their team and fill the other spinning option with an all-rounder.
The BCB is positive about the U-19 squad's performance in the upcoming World Cup next year. Hanan Sarkar also said that they had toured England and New Zealand and it was a good experience for their team as they had the chance to play in similar conditions to South Africa.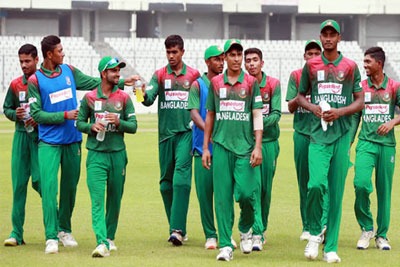 Akbar Ali will be leading Bangladesh Squad for ICC U-19 World Cup:
Akbar Ali has been named the captain of Bangladesh squad for the ICC U-19 World Cup, while Tawhid Hridoy has been appointed as the vice-captain. The 18-year-old Akbar Ali has represented Krira Shikkha Protisthan in the Dhaka Premier Division Cricket League 2018-19.
Hanan Sarkar said that they optimistic about their good pace bowlers and they feel that they can show their mettle while playing in the U-19 World Cup in South Africa.
Squad:
Akbar Ali (C), Tawhid Hridoy (Vice Captain), Tanzid Hasan Tanim, Mohammad Parvez Hossain Emon, Prantik Nawrose Nabil, Mahmudul Hasan Joy, Shamim Hossain, Shahadat Hossain, Mohammad Mirttunjoy Chowdhury Nipun, Avishek Das, Tanzim Hasan Sakib, Shoriful Islam, Rakibul Hasan, Mohammad Shahin Alom, Hasan Morad
Stand by:
Amite Hasan, SM Meherob Hasan, Minhazur Rahman Mohanna, Ashraful Islam Siam, Rubel Mia, Asadullah Hill Galib