Pakistan's T20I Captain, Babar Azam:
Pakistan's new T20I Captain and World's top-ranked T20I batsman, Babar Azam has assured everyone that the captaincy will not put him under any sort of unnecessary pressure.
Babar Azam was named Pakistan's new T20I captain after Pakistan Cricket Board (PCB) removed Sarfaraz Ahmed, following a 3-0 whitewash against Sri Lanka in Lahore. Pakistan Cricket Board (PCB) chairman, Ehsan Mani stated that Sarfaraz Ahmed was removed from his position because of his poor form and lack of confidence.
Babar Azam is without a doubt, one of the best batsmen Pakistan has ever produced. He has played 33 T20Is and scored more than 1200 runs with an average of 49.6 while scoring 10 half-centuries. Babar Azam has also played 74 ODIs where he scored more than 3300 runs with an average of 54. He has scored 15 half-centuries and 11 hundred in ODIs.
Babar Azam talked about being a captain of Pakistan's T20I side and the upcoming tour of Australia during his press conference at Gaddafi Stadium, Lahore.
Babar said that he disagrees with people who judge him based on his performance in the three matches against Sri Lanka where he played as a vice-captain. Babar explained that there are ups and downs in a game of cricket, and that was undoubtedly a poor series for the Pakistan team. He said that he gives more than 100% in every match he plays. He clarified that there will not be any unnecessary pressure on him just because he is the captain and he will continue to play as he always had.
He said that he aims to get good performance out of his team, as well as individual performances. Babar said that he looks towards captains like New Zealand's Kane Williamson and India's Virat Kohli, and how they manage their team and their own performance at the same time. He added that he will try to follow the pair's example to improve.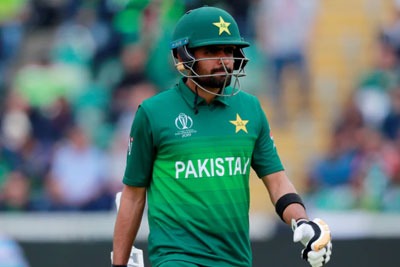 Babar Azam said that there are players in the team who have continued to perform, and he does not think these players should be kicked out of the side just because of not being able to perform in a few matches. Babar said about Fakhar Zaman that he scored an unbeaten 82 runs off 54 balls to help his team beat Babar Azam's side by 7 wickets. He added that Fakhar is returning to his form and Shadab Khan has also improved a lot.
Babar revealed that he and Fakhar Zaman will be opening the innings for their upcoming tour of Australia, while Imam-ul-Haq will be the backup opener. He added that Imam-ul-Haq will take over when necessary during their tour.
Babar Azam about his Past:
Babar also talked about his past about when he first came to the Gaddafi Stadium in Lahore 12 years ago, as a ball-boy during South Africa's tour of Pakistan back in 2007. Babar said that there have been many difficult times for him that reduced him to tears.
He talked about his late coach, who always used to say that cricket is a game that makes you cry much more often than it lets you smile. Babar Azam added that despite all the difficulties, he has never given up, never lost hope or the belief that his hard work would pay off someday.
Babar Azam all set for the upcoming tour of Australia:
Babar's first international assignment will be Pakistan's upcoming tour of Australia. Pakistan will play a three-match T20I series against Australia, which is set to start from November 3.
Babar Azam said that he has experience of playing in those conditions, as he had toured Australia as a captain of Pakistan's Under-19 team back in 2012, and also with the Pakistan team three years ago. Babar scored a total of 282 runs including a century across the five ODIs during Pakistan's last tour of Australia.