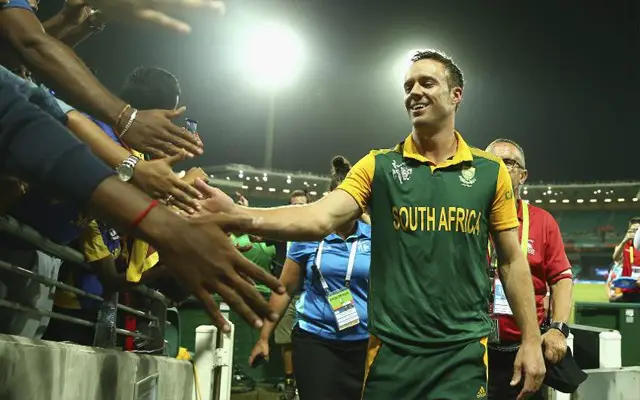 South African cricketer AB de Villiers is expected to make a comeback in the T20I squad for the upcoming T20 World Cup in Australia, this year.
AB de Villiers announced his retirement from all formats of the game in May 2018. Although, he kept playing franchise cricket and has been an integral part of T20 Leagues around the world. He is currently representing Brisbane Heat in the Big Bash League (BBL), where he spoke to the reporters after his debut match on January 14.
"I've been talking to Bouch, Graeme Smith and Faf back home," AB de Villiers said. "We are all keen to make it happen, it's a long way away still and plenty can happen – there's the IPL coming, I've still got to be in form at that time. I'm thinking of throwing my name in the hat and hoping everything will work out.
"It's not a guarantee, I don't want to disappoint myself or other people, so, for now, I'm just going to try and keep a low profile, play the best possible cricket I can and we'll see what happens towards the end of the year.
"It doesn't mean everything is going to be sunshine and roses but it's definitely a lot easier and feels comfortable, the language that's being used and the feel everyone has at the moment in South Africa about the cricket. They are my friends, I played 10-plus years with them, so we've been through a lot and great to have them involved again. Hopefully, I'll be involved as well pretty soon."
The 35-year-old is expected to come out of retirement and is in talks with the current Cricket South Africa (CSA) management. De Villiers also made himself available for selection right before the World Cup 2019, but he was a little late according to the selectors and could not make it to the squad.
Last month, South African captain Faf Du Plessis also revealed that conversations to bring him back for the T20 World Cup have been going on for the past few months. "People want AB to play and I am no different. Those conversations have been happening for two or three months already," Faf du Plessis said.
[reactions]