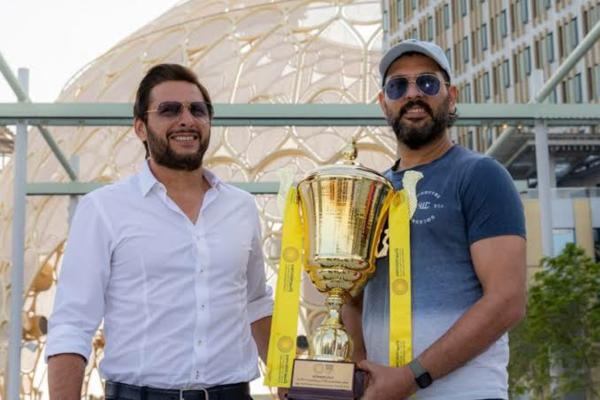 The two former all-rounders, Yuvraj Singh and Shahid Khan Afridi, both of whom still play franchise cricket after retiring from international games, were at the Expo 2020 Dubai cricket tournament final and stress upon bringing Ind-Pak bilateral series back.
The two nations, India and Pakistan, have always been in conflict rivalries. Neither the political situations between both the sides are sound which has destroyed the spirit of game "Cricket" among both nations.
Yuvraj and Afridi were at Expo 2020 Dubai Cricket and Afridi even goes with the saying that Asian arch-rivals' competitiveness promises something more intense than the Ashes — cricket's oldest rivalry between England and Australia.
Due to the conflicting rivalries among both India and Pakistan, the affect has been so immense that the fans from both sides consider each other as their enemies and enjoy every bit of Ind-Pak cricket match. Even those who are not cricket freaks, enjoy the match.
On the scenario, seaking to Sport360, Afridi said:
"I think, if India and Pakistan were to have a series, it will be something bigger than the Ashes. However, we don't seem to get it. We are letting politics get in the way of people's love for this sport and their wish to come together."
"I think we need to put a few things behind us as well and so does India. We need to sit down together at a table and talk things out," the former Pakistani skipper added.
Yuvraj continuing the statements added,
"Yes it has been on and off (bilateral cricket)."
"I remember playing against Pakistan in 2004, 2006 and 2008 in bilateral series. These days yeah, there has not been enough of that. But these things are not in our hands. We play cricket for the love of the sport. We cannot choose which country to play against ourselves. But what I can say is that the more India v Pakistan cricket there is, the better it is for the sport."
However, in a short while back, the Pakistan Cricket Board (PCB) captured the Board of Control for Cricket in India (BCCI) to court for its alleged failure in honouring the MoU that was signed between the two administrative bodies over the scheduling of six bilateral series between two old rivals between 2015 and 2023. As an outcome, the Indian board was little bothered since no action has been taken in this regard.
Also, see: