Wahab Riaz Takes Decision:
Pakistani fast bowler Wahab Riaz has decided to take a break from red-ball cricket. Wahab has also withdrawn from The Quaid-e-Azam Trophy, just two days before the start of one of the biggest domestic tournaments in Pakistan. Wahab was supposed to represent the side of Central Punjab in "The Quaid-e-Azam Trophy".
Wahab was also absent from the training camp of Central Punjab, Where they were preparing for their opening match against Southern Punjab in Lahore.
Wahab explained that after reviewing his past performances in red-ball cricket and upcoming limited-overs cricket, he has decided to take some time off first-class cricket. Wahab also said that he intends to focus on 50-over and 20-over cricket during his break and he will continue to focus on accessing his fitness for the longer version of the game.
Wahab Riaz said that if he feels at any stage that he can, not only return with the red-ball but also perform with it, he will make himself available.
Wahab also informed that the PCB has been trying to convince him to pursue his career with the red-ball but he met them to convey his decision. Wahab also said that he is grateful for all their understanding and support.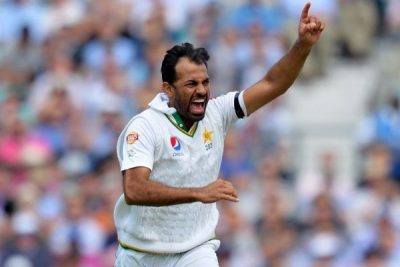 Wahab Riaz's history:
The 34-year-old, Wahab made his test debut in 2010 and has played 27 tests so far. Wahab expressed his intention of regaining the fitness level required for the longer format of the game. Wahab last played the first test against Australia in October 2017, Dubai. Since January 2017, Wahab has only made 4 test appearances.
Wahab was also out of the ODI squad for almost two years before being unexpectedly selected for the World Cup squad. He took 11 wickets in 8 matches in the World cup 2019.
Former coach Mickey Arthur and Wahab Riaz:
Pakistan Cricket team's former coach Mickey Arthur made some harsh remarks about the Pakistani fast bowler last year and publicly questioned his ability to win matches for Pakistan. Mickey Arthur said that he expects players who have been around for a long time to win games for Pakistan and wants them to set standards otherwise they will just focus on younger players who have long futures ahead of them. Mickey Arthur also said that Wahab has not won them a game in two years. Mickey also found his work ethic around training to be questionable. The former coach explained that he's not interested in players doing the bare minimum and he wants players to win them the games and pushing themselves to be the best they can be.
Wahab's inclusion in the world cup squad was pretty unexpected as he was not part of the preliminary squad but he looked pretty determined after he was selected as Wahab said right before his departure for the world cup that he cannot explain the pain he has gone through and he does not want to live in the past, following his long break from the ODI. Wahab also said that he wanted to be in the team but the only difference was that he missed two years of international cricket and now that he's in the team, he's determined to prove Mickey Arthur wrong and justify his opportunity.
The Pakistani fast bowler Wahab Riaz has been in and out of the scene for a while now but we know one thing for sure that he is a very talented and hardworking bowler who has served Pakistan cricket team in many times of need. We look forward to seeing him return to the Red-ball cricket soon.