Ashes 2019 Buttler saves England Test 5 (day 1)
Australia won the toss and elected to field first as the 5th test of Ashes 2019 began at The Ovals.
England comes to bat:
Joe Denly and Rory Burns came out to bat for England but they could not do much as the first wicket of Joe Denly (14 off 26) fell to Cummins in the 9th over of the game.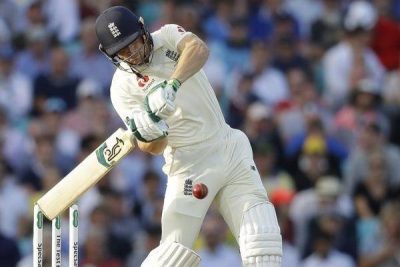 At the end of the 9th over England was at 30/1.
Rory Burns and Joe Root batted sensibly and took a stand of 76 runs only for Rory Burns (47 off 87) only to be dismissed 3 runs short of his half-century by Hazlewood.
At the end of the 31st over England was looking good at 103/2.
Ben Stokes came to bat but he went back soon for just 20 runs off 36 balls as Mitchell Marsh took his first wicket of the day.
At the end of the 40th over England was at 130/3.
England's Captain Joe Root played a sensible inning of 57 off 141 balls but he was bowled out magnificently by Pat Cummins.
Right after that, England's batting lineup started to crumble down as Mitchell Marsh's 4 for 35 strengthened Australia's position in the game.
Jonny Bairstow (22 off 55), Sam Curran (15 off 13) and Chris Woakes (2 of 5) were the other three victims of Mitchell Marsh.
At the end of the 66th over England was at 205/7.
England's crumbling batting lineup was then rescued by Jos Buttler who played an amazing inning of 64* off 84 balls. The last wicket to fall for England was off Jofra Archer (9 off 16) who got caught behind by Tim Paine on Hazlewood's ball in the 71st over.
At the end of the day, Jos Buttler (64* off 84) and Jack Leach (10* off 31) are the ones standing on the crease for England.
England's score at the end of day 1 is 271/8* 82 overs.