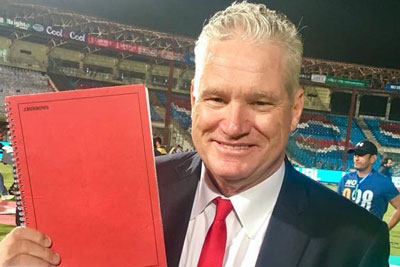 The Australian commentator, coach, and former cricketer, Dean Jones, has died because of a massive heart attack. The news is shocking and has been confirmed by many reliable Indian cricketing authorities.
Dean was in Mumbai and he was all set to fly for UAE to join the Indian Premier League (IPL 2020). He was selected for off-tube commentary for the thirteenth season of the cash-rich league.
Since years, he has been working in collaboration with many T20 leagues across the globe. For the Pakistan Super League (PSL), he has coached Islamabad United (ISLU) exceptionally and for the PSL 2020, he was signed for Karachi Kings (KK).
Cricket Australia will be missing his services as he was the perfect cricketing analyst. He has scored 3631 runs in Test cricket playing 89 innings of 52 matches. Whereas, his ODI record will always be remembered as he crossed 6000+ runs in 161 innings.
Shocking! Dean Jones dies of a stroke in Mumbai
What am I hearing of Dean Jones? He passed away, dying of a stroke in Mumbai. Shocking

— Vikrant Gupta (@vikrantgupta73) September 24, 2020
Also, see: