England's wicketkeeper, Sarah Taylor:
Sarah Taylor, one of the most talented wicketkeepers to ever exist, announced her retirement from international cricket. Taylor had been struggling with a long-term anxiety issue in recent years which was also the cause of her retirement.
The 30-year-old wicketkeeper, Sarah Taylor made her debut for England at the age of 17 years in 2006 and went on to make 226 international appearances recorded. Taylor has scored a total of 6,533 international runs, second-highest on England Women's all-time list of run-scorers, right behind her long-term captain, Charlotte Edwards.
Sarah Taylor had played many key roles in some of England Women's most memorable achievements over the course of her career, including the World Cup and World T20 victories in 2009, and the home World Cup win in 2017, in which she played impressive innings of 54 and 45 in England's semi-final and final victories over South Africa and India respectively.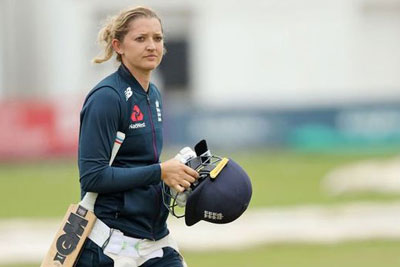 Sarah Taylor will be remembered mainly because of her performance behind the stumps. Taylor's total of 232 dismissals across all formats of cricket is a record for women's internationals. Taylor Taylor's style and skill of many of her dismissals have marked her out as one of the most naturally talented and gifted wicketkeepers to ever exist.
Taylor's instinct and her ability to judge where the ball was going were exceptional even among top-tier wicketkeepers. Taylor Taylor's anxiety has affected her ability to wholeheartedly enjoy the game and have already taken a break after England's semi-final defeat by the hands of India Women at the World T20 in 2016, Taylor's international appearances were carefully managed by the England Cricket Board (ECB).
Taylor said that this has been a tough decision to make but she knows it is the right one. Taylor thanked all her past and present team-mates, and the England Cricket Board (ECB) for being her supporters and friends along her journey.
Sarah Taylor said that playing for England and getting to wear the shirt for this long has been a dream come true and she has been blessed with many great moments throughout her career. Taylor said that she had been blessed with traveling all over the world and making lifelong friends along the way.
Sarah Taylor's final international appearance was during this summer's drawn Ashes Test at Taunton where she scored 5 runs in her solitary innings before withdrawing from the T20 leg of the Ashes series to manage her anxiety issues.
England's performance was disappointing during the Ashes series, they lost the points-based series 14-4, with one win in the seven matches which led to the resignation of England's Mark Robinson, the head coach of England Women who had played an integral role in helping Sarah Taylor balance her priorities in battling her anxiety.
Taylor said that to be right in the center of women's cricket as it is gone from strength to strength not only in England but across the world has been an amazing experience for her. Sarah Taylor further added that she can look back on all that women's cricket has achieved with great pride at playing some small part in it.
Sarah Taylor said that the England girls are role models on and off the field, and they have undoubtedly inspired and will continue to inspire so many young people to take up the game, girls, and boys. Taylor expressed that she cannot wait to see the heights this team can reach.
Taylor said about her retirement that she is extremely proud of her career, and she takes her to leave from cricket with her head held high and with excitement for what her future holds and what her next chapter brings.