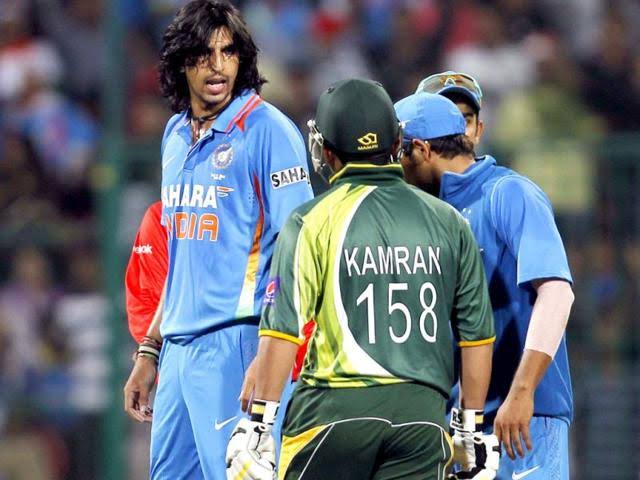 Kamran Akmal, the wicket-keeping batsman of Pakistan had a sound career until he played. It seems like the talented batsman will not have another chance to serve his country in international cricket.
Recently, Kamran Akmal has revealed the reason behind why he got involved with Ishant Sharma and Gautam Gambhir in clashes years back.
He has termed all those clashes as highly misunderstood as be disclosed that he has very friendly relations with these players and we used to eat together when on tours. Kamran further added that every Pakistani players respect them and there is nothing like clash among us in real life.
Reviving the moments to a T20I match in Bengaluru in 2012, Kamran said his on field fight with Ishant Sharma was only due to misunderstanding as he misinterpreted what Sharma said.
"It was all due to me not understanding what he said. The same with Ishant at Bangalore. You know me I don't say much on the field. Both Gautam and Ishant are very good boys. We respect them and they respect us. What happens on the field, stays there," Akmal added. Akmal played 53 Tests, 157 ODIs and 58 T20Is for Pakistan between 2002 and 2017.
He told the similar reason while discussing about infamous clash with racist Gautam Gambhir. Gambhir and Kamran have played lots of A cricket together hence, possess the good bonding.
"It was all due to misunderstanding and happened in the heat of the moment then. Gautam and I are good friends because we have played a lot in 'A' cricket. We meet regularly, have food together," Akmal said about his clash with Gambhir during a show named "Cow Corner Corner" on Youtube.
It is to be noted that Kamran's brother, Umar Akmal has recently been banned for three years by PCB for the consecutive disciplinary issues.
Also, see: