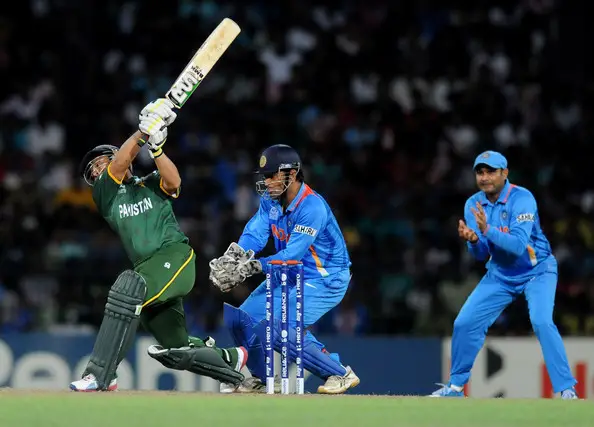 Kamran Akmal, Pakistan's former destructive wicket-keeping batsman, has chosen MS Dhoni as the wicketkeeper India shall go within the T20 World Cup 2020.
Kamran ranked KL Rahul second as he preferred Dhoni in his two men list India shall think of as a wicketkeeper.
The batsman started a question-answer session on Twitter where several people asked him several questions and choosing the wicketkeeper for India for the T20 World Cup was one of those.
Kamran Akmal picks MS Dhoni as the wicketkeeper for the T20 World Cup
I think it shall be MS Dhoni and 2nd option KL Rahul
i think it should be MS Dhoni & 2nd option KL Rahul

— Kamran Akmal (@KamiAkmal23) June 12, 2020
Mahendra Singh Dhoni, most probably known as MS Dhoni, is a legendary batsman from India. Dhoni captained the Indian Cricket Team in ODIs and T20Is during 2006-17 and in Tests, from 2008-14.
When the world talks about professional, terrific, senior, and legendary batsmen, MS Dhoni is one of the sound names among others. He is also the only captain in the history of cricket to win all ICC trophies.
Dhoni began his career of cricket in 2004 when he played his first ODI against Bangladesh where he, unfortunately, got run out on a first ball. However, he has occupied a sound career ahead.
Once when Dhoni is on the crease, his aggressive knocks left bowlers of opponents in trouble. However, he has not played any international game since 2019 world-cup semi-final when Martin Guptill grabbed his wicket.
Moreover, the topic of MS Dhoni's retirement has been trending for a few months. It seems like his own nation has stood against him and wants him to retire. MS Dhoni has served India Cricket for so long and he, no doubt, deserves a farewell with dignity. A few are of the thoughts that if he has not taken part in international cricket since ICC World Cup 2019 and has been on the gap for this much longer, he shall think about retirement, however, a few think that it is totally up to Dhoni whether to come back or not.
However, it is his fitness that will decide whether he is capable of comeback or not. He was seen practicing in nets for the Indian Premier League (IPL) which has been suspended until further notice amid Coronavirus outbreak. He thought that after performing in the cash-rich league, he would make a comeback on behalf of his T20 league's performance.
Also, see: