Jofra Archer:
The bowling allrounder of England – Jofra Archer says that his first taste of Test cricket this summer has sparked his appetite for future engagements after his 22 wickets at 20.27 helped England secure a 2-2 draw in his maiden series against Australia.
Jofra Archer was born in Barbados but was a holder of a British passport, He only became available to play for England in March, after the England Cricket Board changed their residency qualification period to three from seven years.
The 24-year-old Jofra Archer made his ODI debut against Pakistan in May, and due to his consistent performance, he earned himself a late World Cup call-up and went on to claim 20 wickets at 23.05 in the favor of England winning the World Cup.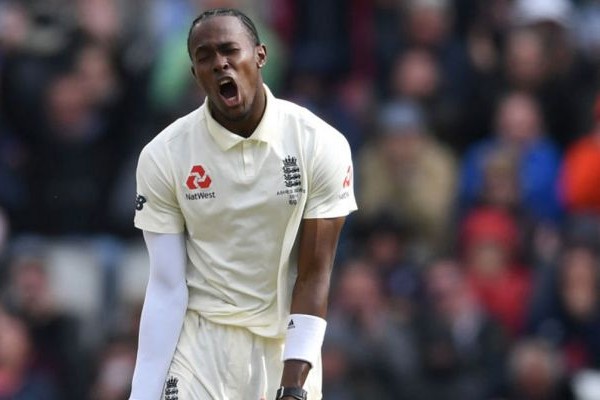 Jofra Archer on his amazing performance in the Ashes:
Jofra Archer said about speaking the England's win in the fifth Test at The Oval that it was too soon for him to take full stock of a whirlwind first season of international cricket, but he admitted that his personal favorite highlight would have to be England's World Cup victory against Newzealand at Lords in July 2019.
Jofra Archer displayed fantastic performance throughout his four Ashes Tests. Jofra Archer also took 6 wickets in each of England's wins at The Oval and Headingley.
Jofra Archer said that he needs a few weeks to sit back and reflect on what has happened but from the moment he pulled his England shirt on it has been amazing for him.
Ben Stokes complemented Jofra Archer that his consistent performance has made him precisely the sort of spearhead that England will need when they travel to Australia in two years to try and win back the urn in the 2020-21 Ashes. Ben Stokes also praised Jofra Archer by saying that if he can bowl 90 miles per hour plus and with that much control then he is going to be a huge threat anywhere in the world.
Jofra Archer said on being asked about his prior expectations of test cricket said that he does not know, he has never played another series so he has no idea what the next one will feel. Archer said that he takes every game like it's a final, an Ashes.
Jofra Archer said that he is all taking it in and that it is his first Test series but if all test cricket is like this then it is going to be very exciting for him.
Stuart Broad about Jofra Archer:
Stuart Broad praised Jofra Archer saying that he has got incredible attributes. Broad further said that Jofra Archer got great control and a great natural pace but his next challenge is that it will not always be as easy as this and he will not take wickets regularly as well.
Broad also said that after Jofra Archer had one average day in the fourth Test, he then all of a sudden started getting some criticism, Broad advised that we should not expect him to be 10 out of 10 every day, because that is physically impossible as a fast bowler.
Broad said that Jofra Archer is going to be one of those guys who pick things up very quickly, He is determined and he is going to have a huge amount of success.
Broad also expressed that Jofra Archer is excited to play with and some spells have been as fierce as I've been on a field with, but he'll need some managing.
Stuart Broad said regarding Jofra Archer that he does not think we should expect Jofra Archer to be as good as he has been this series every time he plays and bowls as much as he has done this Ashes but he is a real asset for the England cricket.