The much longer era of wait is now over as the Board of Control of Cricket in India (BCCI) have finally released the formal schedule for the thirteenth edition of the Indian Premier League (IPL 2020).
The first match is to take place between four times IPL winners, Mumbai Indians (MI), and three times winners, Chennai Super Kings (CSK). Sheikh Zayed Stadium at Abu Dhabi is all set to witness the ground shaking opening ceremony on the same day.
It is to be noted that a total of 24 matches will be hosted by Dubai whereas, Abu Dhabi and Sharjah will host 20 and 12 games respectively.
IPL 2020 schedule releases finally: Extravaganza all set to commence
| | | | | |
| --- | --- | --- | --- | --- |
| Date | Day | Match | Time (IST) | Venue |
| September 19 | Saturday | MI vs CSK | 7:30 PM | Sheikh Zayed Stadium, Abu Dhabi |
| September 20 | Sunday | DC vs KXIP | 7:30 PM | Dubai International Cricket Stadium, Dubai |
| September 21 | Monday | SRH vs RCB | 7:30 PM | Dubai International Cricket Stadium, Dubai |
| September 22 | Tuesday | RR vs CSK | 7:30 PM | Sharjah Cricket Stadium, Sharjah |
| September 23 | Wednesday | KKR vs MI | 7:30 PM | Sheikh Zayed Stadium, Abu Dhabi |
| September 24 | Thursday | KXIP vs RCB | 7:30 PM | Dubai International Cricket Stadium, Dubai |
| September 25 | Friday | CSK vs DC | 7:30 PM | Dubai International Cricket Stadium, Dubai |
| September 26 | Saturday | KKR vs SRH | 7:30 PM | Sheikh Zayed Stadium, Abu Dhabi |
| September 27 | Sunday | RR vs KXIP | 7:30 PM | Sharjah Cricket Stadium, Sharjah |
| September 28 | Monday | RCB vs MI | 7:30 PM | Dubai International Cricket Stadium, Dubai |
| September 29 | Tuesday | DC vs SRH | 7:30 PM | Sheikh Zayed Stadium, Abu Dhabi |
| September 30 | Wednesday | RR vs KKR | 7:30 PM | Dubai International Cricket Stadium, Dubai |
| October 1 | Thursday | KXIP vs MI | 7:30 PM | Sheikh Zayed Stadium, Abu Dhabi |
| October 2 | Friday | CSK vs SRH | 7:30 PM | Dubai International Cricket Stadium, Dubai |
| October 3 | Saturday | RCB vs RR | 3:30 PM | Sheikh Zayed Stadium, Abu Dhabi |
| | | DC vs KKR | 7:30 PM | Sharjah Cricket Stadium, Sharjah |
| October 4 | Sunday | MI vs SRH | 3:30 PM | Sharjah Cricket Stadium, Sharjah |
| | | KXIP vs CSK | 7:30 PM | Dubai International Cricket Stadium, Dubai |
| October 5 | Monday | RCB vs DC | 7:30 PM | Dubai International Cricket Stadium, Dubai |
| October 6 | Tuesday | MI vs RR | 7:30 PM | Sheikh Zayed Stadium, Abu Dhabi |
| October 7 | Wednesday | KKR vs CSK | 7:30 PM | Sheikh Zayed Stadium, Abu Dhabi |
| October 8 | Thursday | SRH vs KXIP | 7:30 PM | Dubai International Cricket Stadium, Dubai |
| October 9 | Friday | RR vs DC | 7:30 PM | Sharjah Cricket Stadium, Sharjah |
| October 10 | Saturday | KXIP vs KKR | 3:30 PM | Sheikh Zayed Stadium, Abu Dhabi |
| | | CSK vs RCB | 7:30 PM | Dubai International Cricket Stadium, Dubai |
| October 11 | Sunday | SRH vs RR | 3:30 PM | Dubai International Cricket Stadium, Dubai |
| | | MI vs DC | 7:30 PM | Sheikh Zayed Stadium, Abu Dhabi |
| October 12 | Monday | RCB vs KKR | 7:30 PM | Sharjah Cricket Stadium, Sharjah |
| October 13 | Tuesday | SRH vs CSK | 7:30 PM | Dubai International Cricket Stadium, Dubai |
| October 14 | Wednesday | DC vs RR | 7:30 PM | Dubai International Cricket Stadium, Dubai |
| October 15 | Thursday | RCB vs KXIP | 7:30 PM | Sharjah Cricket Stadium, Sharjah |
| October 16 | Friday | MI vs KKR | 7:30 PM | Sheikh Zayed Stadium, Abu Dhabi |
| October 17 | Saturday | RR vs RCB | 3:30 PM | Dubai International Cricket Stadium, Dubai |
| | | DC vs CSK | 7:30 PM | Sharjah Cricket Stadium, Sharjah |
| October 18 | Sunday | SRH vs KKR | 3:30 PM | Sheikh Zayed Stadium, Abu Dhabi |
| | | MI vs KXIP | 7:30 PM | Dubai International Cricket Stadium, Dubai |
| October 19 | Monday | CSK vs RR | 7:30 PM | Sheikh Zayed Stadium, Abu Dhabi |
| October 20 | Tuesday | KXIP vs DC | 7:30 PM | Dubai International Cricket Stadium, Dubai |
| October 21 | Wednesday | KKR vs RCB | 7:30 PM | Sheikh Zayed Stadium, Abu Dhabi |
| October 22 | Thursday | RR vs SRH | 7:30 PM | Dubai International Cricket Stadium, Dubai |
| October 23 | Friday | CSK vs MI | 7:30 PM | Sharjah Cricket Stadium, Sharjah |
| October 24 | Saturday | KKR vs DC | 3:30 PM | Sheikh Zayed Stadium, Abu Dhabi |
| | | KXIP vs SRH | 7:30 PM | Dubai International Cricket Stadium, Dubai |
| October 25 | Sunday | RCB vs CSK | 3:30 PM | Dubai International Cricket Stadium, Dubai |
| | | RR vs MI | 7:30 PM | Sheikh Zayed Stadium, Abu Dhabi |
| October 26 | Monday | KKR vs KXIP | 7:30 PM | Sharjah Cricket Stadium, Sharjah |
| October 27 | Tuesday | SRH vs DC | 7:30 PM | Dubai International Cricket Stadium, Dubai |
| October 28 | Wednesday | MI vs RCB | 7:30 PM | Sheikh Zayed Stadium, Abu Dhabi |
| October 29 | Thursday | CSK vs KKR | 7:30 PM | Dubai International Cricket Stadium, Dubai |
| October 30 | Friday | KXIP vs RR | 7:30 PM | Sheikh Zayed Stadium, Abu Dhabi |
| October 31 | Saturday | DC vs MI | 3:30 PM | Dubai International Cricket Stadium, Dubai |
| | | RCB vs SRH | 7:30 PM | Sharjah Cricket Stadium, Sharjah |
| November 1 | Sunday | CSK vs KXIP | 3:30 PM | Sheikh Zayed Stadium, Abu Dhabi |
| | | KKR vs RR | 7:30 PM | Dubai International Cricket Stadium, Dubai |
| November 2 | Monday | DC vs RCB | 7:30 PM | Sheikh Zayed Stadium, Abu Dhabi |
| November 3 | Tuesday | SRH vs MI | 7:30 PM | Sharjah Cricket Stadium, Sharjah |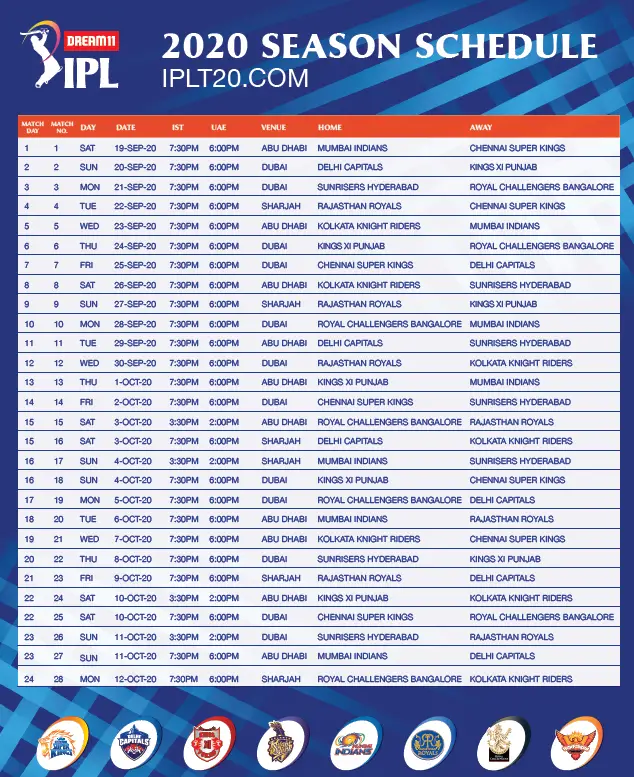 Indian Premier League (IPL) Governing Council releases the complete fixtures for the league stage of the Dream11 IPL 2020 to be held in UAE. https://t.co/7FRfkI6Cbg pic.twitter.com/iM4HTBpMNo

— ANI (@ANI) September 6, 2020
Also, see: