India vs South Africa, 1st Test:
India: 502/7 (declared) & 323/4 (declared)
South Africa: 431 all out & 191 all out (63.5 overs, target 395)
India won the match by 203 runs.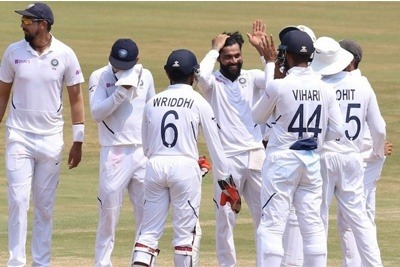 Agarwal and Ashwin put India forward in the 1st innings:
India won the test and elected to bat first against South Africa. Mayank Agarwal and Rohit Sharma, who was playing his first match as on opener provided India with the best start they could have hoped for. Mayank Agarwal played a fascinating inning as he converted his maiden Test hundred into a double-century, scoring a total of 215 runs off 371 balls.
Rohit Sharma also contributed 176 runs as the two of them together took a stand of 317 runs for the first wicket. India scored a total of 502 runs for 7 wickets before declaring their innings. South Africa's Keshav Maharaj took 3 wickets for his team.
South Africa lost their top order quite early as they had lost 4 wickets for just 63 runs with the exception of Dean Elgar. Dean Elgar along with his captain Faf du Plessis and wicketkeeper Quinton de Kock brought South Africa back on its feet. Elgar scored 160 runs while Quinton de Kock and Faf du Plessis scored 111 and 55 runs respectively for their team.
South Africa scored a total of 431 runs before losing all their wickets. Ravichandran Ashwin stood out with the ball as he took 7 wickets for himself in the first innings against South Africa.
Rohit Sharma strikes again in the 2nd innings:
Mayank Agarwal who made a double-hundred in the first innings went out on just 7 runs. Rohit Sharma once again scored a hundred and lost his wicket in the same manner as he did in the first innings, being stumped on Keshav Maharaj's ball. Rohit Sharma scored 127 runs, while Cheteshwar Pujara scored 81 runs for India. India declared their second innings after scoring 323 runs for 4 wickets.
South Africa required a total of 395 runs to win the match. Dean Elgar, who played a vital role in South Africa's first innings, got out on just 2 runs. South Africa's top order went down one after the other as they had lost 8 wickets for just 70 runs into their innings while chasing 395 runs. South Africa's debutant, Senuran Muthusamy scored 49 runs and went not out while Dane Piedt scored 56 runs. Their efforts brought South Africa's total to 191 runs as they lost all their wickets.
Ravindra Jadeja took 4 wickets for India while Mohammed Shami took 5 wickets. Ravichandran Ashwin, who claimed 7 wickets in the first innings, was able to get only one this innings.
South Africa lost the 1st Test against India by 203 runs. It is India's 3rd consecutive win by a margin of over 200 runs. Rohit Sharma was awarded "Player of the Match" for his hundreds in both innings in his first match as an opener. Rohit Sharma scored 176 runs in the first innings and 127 runs in the second innings, playing a key role in India's victory over South Africa.