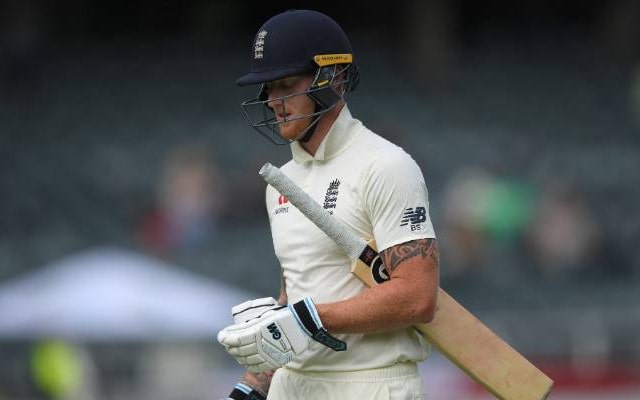 England's star all-rounder Ben Stokes has been fined 15 percent of the match fee and handed one demerit point for breaching Level 1 of the ICC Code of Conduct. Stokes had engaged in a verbal altercation with a spectator on the first day of the fourth Test against South Africa at The Wanderers, Johannesburg.
The incident took place when Stokes was leaving the field after his dismissal at the hands of Anrich Nortje in the 46th over of England's first inning. The spectator abused him at that moment and Stokes also replied with obscene language in response which was caught by broadcasters.
Ben Stokes' level 1 offense, which is "the use of an audible obscenity", was charged by the ICC match referee, Andy Pycroft. The one demerit point will not cause trouble for him in participating in the upcoming ODI and T20I leg of the South Africa series. It was also his first demerit point in the last 24 months.
The all-rounder had played a leading role in England's triumph in the World Cup 2019. He also scored an unbeaten 135 from 219 balls in England's one-wicket victory over Australia in the fourth innings of the 3rd Ashes Test. He was also awarded ICC's "Player of the Year" recently for his brilliant performance in the previous year.
Stokes is currently out of the trouble since it is his first demerit point as the accumulation of 4 or more demerit points in a period of 24 months directly results in an automatic suspension. However, he will still have to pay the fine which is expected to cost him around £2,250.
Ben Stokes' statement regarding the incident:
The all-rounder accepted the sanction proposed by match referee Andy Pycroft, as such, there was no longer any need for a formal hearing. He also issued a public apology for the incident.
Stokes said in his statement: "I wish to apologize for my language that was heard on the live broadcast today after my dismissal. I should not have reacted in that way. As I was leaving the playing area, I was subjected to repeated abuse from the crowd.
"I admit that my reaction was unprofessional, and I sincerely apologize for the language I used, especially to the many young fans watching the live telecast around the world."