Misbah-ul-Haq urges Pacers to Aim for Smith's blind-spot :
Pakistan head coach and chief selector, Misbah-ul-Haq, talked about his method of getting rid of the top-ranked Test batsman Steven Smith in preparations for their upcoming 2-match Test series against Australia. Misbah is expecting great things from the young pace attack, which consists of Mohammad Abbas, Mohammad Musa, Shaheen Shah Afridi, and Naseem Shah.
Steven Smith is currently the no.1 ranked Test batsman with an average of 64.56 in Tests, which is second only to the legendary batsman, Don Bradman. Smith has played 68 Test matches and scored more than 6900 runs with 26 hundred and 27 half-centuries in Tests.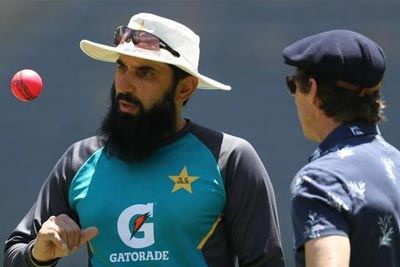 Misbah-ul-Haq wants his pacers to bowl with consistency:
Pakistan's head coach, Misbah, said that every top batsman in the world, including Steve Smith, has a blind spot, and the bowlers should always be interested in pitching the ball in that exact spot. The head coach urged his bowlers to bowl consistently in that 'blind-spot'. He revealed that the bowlers are executing the plans well right now, and hopefully, they will be able to build pressure in the early stages of the innings.
"All the batsmen you talk to, any batsman in the world, that's the area where you have to defend a ball, and that is a six-to-eight-meter spot where you have to play the top of off stump. That's the area from where if it's happening then that creates a great chance. Even if it's not happening, you have fewer chances to do anything with the ball." said Misbah.
Misbah explained that if you miss out on bowling in that particular length and line, all the top players in the world will cash in on that, which is why the bowlers have to be disciplined.
The first Test between Pakistan and Australia is set to start from November 21. The 2-match Test series between the two teams is part of the World Test Championship 2019-2021. The series will also be the first international assignment for Pakistan's new Test captain Azhar Ali.