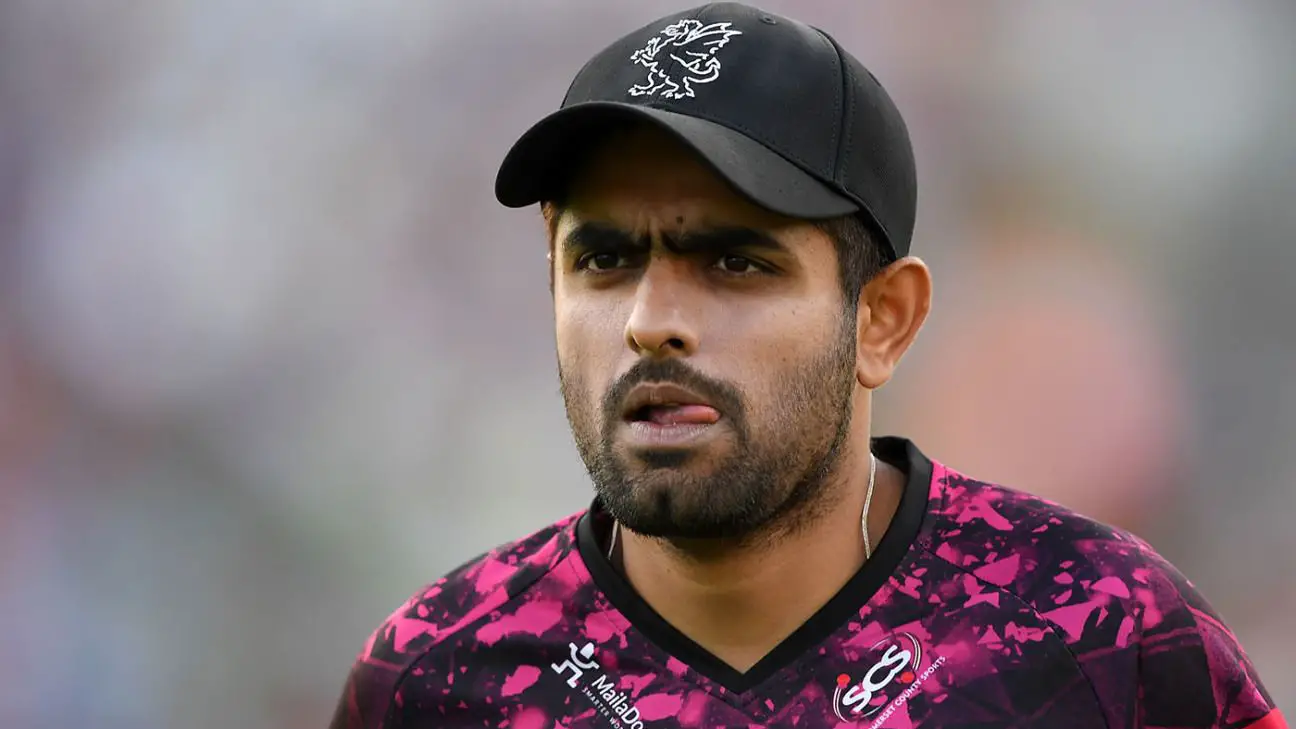 Earlier, the speculations calculated that Pakistan's Babar Azam will be available for the Vitality Blast 2020 which has now been confirmed after the director Andry Hurry has revealed his sayings.
Somerset confirmed Babar's availability for Vitality Blast 2020
Babar, who is in the form due to his presence in net practicing, three tests, and a T20I with two more to go, will be essential for his team Somerset.
"Babar already being in England for the Test & IT20 series against England has helped us significantly and we are very grateful to Babar and his management team for their understanding of the current challenges and their flexibility," he said.
"He is a great player, is so easy on the eye, and fitted brilliantly into our environment last year. We consider Babar to be one of our own and our Members and supporters will I am sure to be really looking forward to seeing him perform for Somerset again via our Live Stream service or if it is permissible, here at the Cooper Associates County Ground," he added.
The player himself is eager to feature in the Vitality Blast 2020 as he cannot wait further to get back to the club.
"I really enjoyed playing for Somerset last year and I can't wait to get back to the Club. For obvious reasons, this year has been very different from what we were all expecting, and I fully appreciate the challenges the game has faced globally as well as here in England," he said in a statement released by Somerset.
The schedule took from The Cricketer:
Thursday, August 27
North: Derbyshire v Leicestershire (Leicester, 6.30 pm); Durham v Lancashire (Chester-le-Street, 6.30 pm); Yorkshire v Nottinghamshire (Headingley, 6.35 pm)
Central: Glamorgan v Worcestershire (Sophia Gardens, 6.30 pm); Gloucestershire v Northamptonshire (Bristol, 2 pm)
South: Kent v Hampshire (Canterbury, 2pm); Essex v Middlesex (Chelmsford, 2pm)
Friday, August 28
Central: Birmingham Bears v Somerset (Edgbaston, 6.30 pm)
South: Sussex v Surrey (Hove, 2 pm)
Saturday, August 29
North: Durham v Nottinghamshire (Chester-le-Street, 2 pm)
South: Middlesex v Kent (Lord's, 2 pm)
Central: Worcestershire v Northamptonshire (Worcester, 1 pm), Gloucestershire v Glamorgan (Bristol, 2 pm)
Sunday, August 30
North: Yorkshire v Derbyshire (Headingley, 2 pm)
Central: Northamptonshire v Somerset (Northampton, 2 pm), Glamorgan v Birmingham Bears (Sophia Gardens, 2 pm)
South: Sussex v Hampshire (Hove, 2pm); Surrey v Essex (Oval, 2pm)
Monday, August 31
North: Leicestershire v Durham (Headingley, TBC), Derbyshire v Lancashire (Headingley, TBC), Nottinghamshire v Yorkshire (Trent Bridge, 2 pm)
Central: Worcestershire v Gloucestershire (Worcester, 1 pm)
Monday, September 1
Central: Somerset v Glamorgan (Taunton, 6.30 pm); Northamptonshire v Birmingham Bears (Northampton, 6.30 pm)
South: Middlesex v Sussex (Lord's, 6.15pm); Kent v Surrey (Canterbury, 2pm)
Wednesday, September 2
North: Derbyshire v Durham (Chester-le-Street, 6.30pm); Yorkshire v Leicestershire (Headingley, 6.30pm); Lancashire v Nottinghamshire (TBC, TBC)
Central: Birmingham Bears v Gloucestershire (Edgbaston, 6.35 pm)
Thursday, September 3
Central: Worcestershire v Somerset (Edgbaston, TBC); Northamptonshire v Glamorgan (Edgbaston, TBC)
South: Middlesex v Essex (Lord's, 6.15pm), Sussex v Kent (Hove, 2pm), Surrey v Hampshire (Oval, 6.30pm)
Friday, September 4
North: Durham v Yorkshire (Chester-le-Street, 6.30 pm); Lancashire v Derbyshire (Liverpool, 2.30 pm); Nottinghamshire v Leicestershire (Trent Bridge, 6 pm)
Central: Gloucestershire v Worcestershire (Bristol, 2 pm); Somerset v Birmingham Bears (Taunton, 6.30 pm)
Saturday, September 5
South: Surrey v Middlesex (Oval, 6.35pm), Essex v Kent (Oval, TBC)
Thursday, September 10
South: Hampshire v Sussex (Southampton, 6.35 pm)
Friday, September 11
North: Nottinghamshire v Lancashire (Trent Bridge, 6 pm); Leicestershire v Yorkshire (Leicester, 6.30 pm); Durham v Derbyshire (Chester-le-Street, 6.30 pm)
Central: Somerset v Worcestershire (Taunton, 6.30pm); Birmingham Bears v Glamorgan (Edgbaston, 6.30pm); Northamptonshire v Gloucestershire (Northampton, 2.30pm)
South: Essex v Surrey (Chelmsford, 2 pm)
Saturday, September 12
South: Kent v Sussex (Canterbury, 2pm); Middlesex v Hampshire (Lord's, 2pm)
Sunday, September 13
North: Derbyshire v Nottinghamshire (Trent Bridge, 2 pm); Durham v Leicestershire (Chester-le-Street, 2 pm)
Central: Glamorgan v Northamptonshire (Sophia Gardens, 2 pm), Somerset v Gloucestershire (Taunton, 2 pm); Worcestershire v Birmingham (Worcester, 1 pm)
Monday, September 14
North: Yorkshire v Lancashire (Headingley, 6.30 pm)
South: Middlesex v Surrey (Lord's, 6.15pm), Sussex v Essex (Hove, 2pm), Hampshire v Kent (Southampton, 2pm)
Tuesday, September 15
North: Leicestershire v Derbyshire (Leicester, 6.30 pm)
Central: Gloucestershire v Birmingham Bears (Bristol, 2 pm); Northamptonshire v Worcestershire (Northampton, 6.30 pm)
Wednesday, September 16
North: Yorkshire v Durham (Headingley, 6.30 pm)
Central: Northamptonshire v Worcestershire (Northampton, 6.30 pm); Glamorgan v Somerset (Sophia Gardens, 6.30 pm)
South: Hampshire v Essex (Southampton, 2pm); Kent v Middlesex (Canterbury, 2pm); Surrey v Sussex (Oval, 6.30pm)
Thursday, September 17
North: Lancashire v Yorkshire (Old Trafford, 6.35 pm); Nottinghamshire v Derbyshire (Trent Bridge, 6 pm)
Friday, September 18
North: Lancashire v Durham (Old Trafford, 6.30 pm); Leicestershire v Nottinghamshire (Leicester, 5 pm)
Central: Birmingham Bears v Worcestershire (Edgbaston, 6.30 pm); Somerset v Northamptonshire (Taunton, 5 pm); Glamorgan v Gloucestershire (Sophia Gardens, 6.30 pm)
South: Kent v Essex (Canterbury, 2pm); Sussex v Middlesex (Hove, 2pm); Hampshire v Surrey (Southampton, 2pm)
Sunday, September 20
North: Derbyshire v Yorkshire (Headingley, 1 pm); Lancashire v Leicestershire (Old Trafford, 1 pm); Nottinghamshire v Durham (Trent Bridge, 1 pm)
Central: Birmingham Bears v Northamptonshire (Edgbaston, 1 pm); Worcestershire v Glamorgan (Worcester, 1 pm); Gloucestershire v Somerset (Bristol, 1 pm)
South: Surrey v Kent (Oval, 1pm); Hampshire v Middlesex (Southampton, 1pm); Essex v Sussex (Chelmsford, 1pm)
Thursday, October 1
Quarter-finals
Saturday, October 3
Also, see: