Misbah's selection sparks outrage among Pakistani fans:
Pakistan's head coach and chief selector, Misbah-ul-Haq, have been facing a lot of backlash following the Pakistan cricket team's poor performance against Australia. Pakistan's cricket scene has seen a lot of changes over the past few months after the appointment of Misbah-ul-Haq as Pakistan's head coach and chief selector of the national team.
Pakistan got whitewashed to second-string Sri Lanka in a 3-match T20I home series, Sarfaraz Ahmed got sacked from his role as the captain of all formats, Azhar Ali took over as the Test skipper, while Babar Azam was handed T20I captaincy.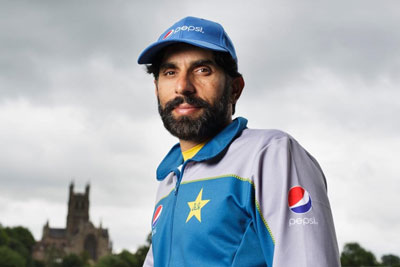 The real criticism came to Misbah when the fan-favorite wicketkeeper-batsman Sarfaraz Ahmed was sacked from his role as the skipper and dropped from the team. Sarfaraz Ahmed's poor form was the reason behind the strict decisions against him. The fans wanted him back into the side in place of Mohammad Rizwan, who was brought in as a replacement for Sarfaraz Ahmed.
Pakistan's upcoming series added fuel to the fire when the top-ranked T20 side faced Australia and lost the 3-match T20I series by 2-0 after the 1st T20I got abandoned due to rain. Australia was not far from winning the 15-over-per-side 1st T20I as well after scoring 41 runs in just 3.1 overs while chasing the target of 107 runs. The match was abandoned with no result after the rain struck again before the game hit the 5-over mark, saving Pakistan from getting whitewashed in a second consecutive T20I series.
Misbah was unlucky enough that his team had to come face to face against Australia at the time of the year when they are at the top of their game, having whitewashed Sri Lanka just days before Pakistan's arrival in Australia. Australia's absolute dominance continued to their series against Pakistan.
Pakistani fans question Misbah-ul-Haq's poor selection:
After Pakistan lost the 1st Test against Australia by an innings and 5 runs, the fans started raising eyebrows at Misbah's selection. Misbah selected the 16-year-old pace bowler Naseem Shah, Mohammad Abbas, Mohammad Musa, Shaheen Afridi, and Imran Khan for the 2-match Test series against Australia.
With so many fast bowlers, Mohammad Abbas, the most experienced out of the lot after having played 14 Test matches, was left out from the playing XI of the 1st Test despite having a terrific Test average of 18.86. Most senior cricketers even questioned Misbah's decision of excluding Mohammad Abbas from the playing XI.
Australian batsmen utterly dominated Pakistani bowlers during the 1st Test. Yasir Shah managed to claim 4 wickets, but after conceding 205 runs in 48.4 overs. Shaheen Shah Afridi, Pakistan's most experienced bowler in the 1st Test, took just 2 wickets for 96 runs in 34 overs. Imran Khan and Naseem Shah both took 1 wicket each.
Misbah-ul-Haq brought in fresh Mohammad Musa and Mohammad Abbas in place of Naseem Shah and Imran Khan for the 2nd Test against Australia. Mohammad Musa conceded 71 runs in just 13 overs.
Is the inclusion of young talent like Naseem Shah and Mohammad Musa is just Misbah's way to avert people's eyes from the real problem? The real problem is that Pakistan has no good experienced Test bowlers. Mohammad Amir and Wahab Riaz's Test retirements caused Pakistan's bowling attack to downgrade. Hasan Ali's injury also came at a miserable time.
Pakistan's first-class bowlers like Mohammad Talha and Bilawal Bhatti who have a lot of first-class wickets because of the poor quality of first-class pitches in the country. A fast bowler just has to land the ball on the right length and allow the pitch to the rest for them. Bilawal Bhatti has an average of 48.50 in 2 Tests, while he has claimed more than 350 first-class wickets at an average of 23.56. Likewise, Mohammad Talha has an average of 56.00 in 4 Test matches, while claiming 327 wickets at an average of 30.38 in first-class.
At this point, Misbah-ul-Haq should focus on the quality of the fast bowlers instead of the quantity. The team desperately needs someone like Mohammad Asif to move forward in Test Cricket.