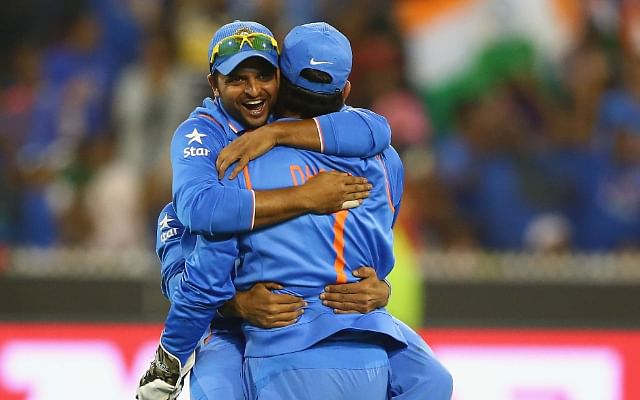 The well-known duo of the Indian Cricket Team, Suresh Raina and MS Dhoni has just revealed their retirement from international cricket on India's independence day, 15th August. On 73rd independence day, jersey number 7 and 3 have retired but have not got their farewell match. They served their homeland with remarkable services and will be honored forever in cricketing history.
Who will you miss the most, MS Dhoni or Suresh Raina?
Dhoni, who captained his side in limited-overs format from 2007-2016 and from 2008-2014 in Test cricket, is the only skipper in cricketing history to win all three ICC trophies; Champions Trophy 2013, ICC T20 World Cup 2007, and ICC ODI World Cup 2011.
He is known as the coolest captain with calmest tricks who always knew how to dig out most of his players keeping his calm. He has also won Asia Cups 2010 and 2016. Being known as a considerable finisher, he was well-aware of his role as a wicket-keeping middle-over batsman.
However, as his topic for the retirement was frenzied after the semifinal of the World Cup 2019, the debate is finally closed. A few wanted him to retire considering his age while a few considered age as just a figure. The wicket-keeping middle-over skipper was not seen on the field since semifinal against New Zealand, however, he was spotted practicing in nets for IPL. The skipper will be continuing to serve his IPL franchise, Chennai Super Kings, as the side has reached Chennai to boost their fitness.
On the contrary, Raina's services are also far beyond exceptional. Being known as one of the best fielders, he was stable with his aggressive middle-order batting. The player once captained Men in Blue and is the only Indian player to smash centuries in all formats of cricket. In collaboration with Dhoni in CSK, Raina's vice-captaincy is praised by many.
The services rendered of both players will always be remembered by the cricketing world and India Cricket. Firstly when Dhoni announced retirement, his well-known partner on and off the field, Raina, followed him announcing his' as well.
Also, see: