Moeen Ali takes a break from red-ball cricket:
Moeen Ali has decided to take a short break from Test cricket and will miss the upcoming England's two Tests in New Zealand in November. Moeen Ali might also not take part in the Tests of the upcoming South Africa tour in December and January.
Moeen Ali is a 32-year-old batting allrounder who plays for the England cricket team. Moeen Ali made his ODI and T20I debut in England's tour of West Indies in 2014 while he made his Test debut in the first test of Sri Lanka's tour of England and Ireland in 2014.
Moeen Ali's decision came right after he was ignored from England's list of centrally contracted Test players for the next 12 months to September 2020, which was announced by Ashley Giles, England's director of cricket.
This was the first time since Moeen Ali's debut in the year 2014-15 that he had been overlooked for the top tier of England Cricket Board (ECB) contracts. Moeen Ali has retained his White-ball contract and will also be a part of England's cricket team for the World T20 which is to be held in Australia next year.
Moeen Ali had played a total of 186 international matches in his entire cricket career playing for England. Moeen Ali had played 60 Tests, 101 ODIs, and 25 T20Is for the England team since his debut in 2014.
Moeen Ali said about his break that it is just to get away from the Test cricket a little bit, Moeen Ali feels like he wants to enjoy his batting more and this will give him a bit the break he wants. Moeen Ali also expressed that he is hopeful for captaining Worcestershire to the title again in the Vitality Blast.
Moeen Ali expressed his desire to spend some time with his family and said he has been playing for England for five years and it has been quite tough for him. Moeen Ali said that the intensity is much higher in Test cricket compared to other formats so this is just to give him a break and Moeen Ali will see what happens after that.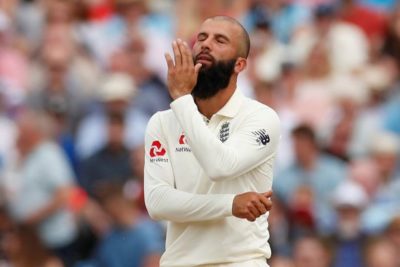 Ashley Giles about Moeen Ali:
Moeen Ali clarified that he is not ruling out playing Test cricket in the future, he has thought about it a lot and he just wants to give himself a bit of time to refresh his batteries and see where it all goes after that.
England's director of cricket, Ashley Giles also indicated in his announcement this Friday that Moeen Ali's decision did not spell the end of his Test career. Ashley Giles also said that Moeen Ali's test retirement had already been discussed during their conversations with Moeen Ali as he came to terms with a disappointing summer in which he was dropped after England's defeat against Australia in the first Test of the Ashes at Edgbaston.
Ashley Giles said that it had been a challenging summer for all the guys and not just Moeen. Giles further added that a World Cup and an Ashes back-back has had a massive effect on many of England's players psychologically, as much as physically. Giles said that Moeen is one of those players who are still carrying those issues.
Giles said about Moeen Ali that his experience in the first test of the Ashes series was not a great one, but that's cricket. Giles said that Moeen had been a great servant for the England cricket team and that is why Giles encouraged him to leave that option open to come back as Moeen Ali might just need to go away and freshen up a bit.
Giles said that the two tests in New Zealand are not part of the World Test Championship, but they are very important for the build-up process for their series against South Africa, which is a series England has got to go and win. Giles added that New Zealand is a strong team and England is not going there lightly and England has got to be ready.
England will tour to Sri Lanka where they will play two Tests in March and April in 2020. Moeen Ali claimed 18 wickets at an average of 24.50 last year in Sri Lanka and that might be a good time for Moeen Ali to come back. But Sri Lanka's tour falls close to the start of the Indian Premier League (IPL), a tournament for which Moeen Ali has a contract with Royal Challengers Bangalore (RCB). Giles insisted that Moeen Ali's decision would not be entirely driven by any desire to play a full part in Royal Challengers Bangalore's run, Giles was fixated that the rewards of the tournament were not just financial.
Ashley Giles said that it is going to be very difficult for them to stop players from going to the Indian Premier League (IPL) without risking losing them and they have got to accept that and manage their players outside that. Giles said that the players have to be reasonable in accepting that we are making space for them because the main duty of the players is to represent England, but that window in the schedule is left open for the players for a reason.
Ashley Giles acknowledged that the incredible demands placed on England's players in the summer to end all summers were unsustainable and that the board had a duty to care towards Moeen Ali and the others who have been struggling with the team's multiple ambitions.
Giles said that these are extraordinary circumstances and some players deal with it better than the others, players have different cycles of their own game, and where they stand in terms of confidence. Giles said that they're going to support these guys come back into the side, their whole system has got to be better at picking them up and making sure they're better prepared for the challenges.
Ashley Giles said about Moeen Ali and the others that the players have all suffered in different ways but he gives great credit to every one of them, it would have been very easy to just give up but the players saw right through it.