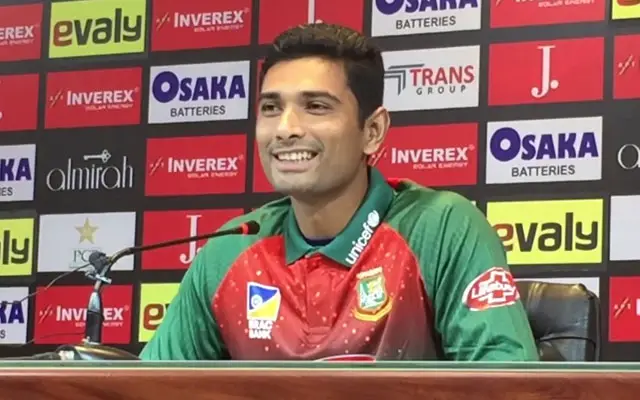 Bangladesh skipper Mahmudullah reflected on their defeat after the first T20I. Pakistan defeated Bangladesh by 5 wickets with 3 balls to spare owing to Shoaib Malik's master-class innings in Lahore.
Mahmudullah found the pitch "difficult to score runs" and said that it was difficult for the latter batters to hit straight away. He said: "I expected a little bit better from the wicket because once the ball got older, we found it difficult to score runs. The ball did not come on to the bat as we expected. It was difficult for the later batters to come and hit straight away.
"Once the ball got old, it was difficult to bat. The ball was holding on the wicket and the batsmen struggled to get underneath. We were short by a good 10-15 runs."
Bangladesh's openers provided their team with a steady start as Naim Sheikh added 43 on the board, while Tamim smacked 39 runs.
Bangladesh captain said after the match: "I believe the way we batted in the powerplay was spot on. Tamim and Naim batted quite well. But as the ball kept losing its shine, it was getting difficult. In the middle overs, we lost two wickets in an over, that too of a set batsman. From that point onwards, if we were to drag the run-rate higher, we would have needed some big overs which yielded some 15-17 runs.
"I think that was one of the areas which we lacked in. Credit goes to the Pakistani bowlers as well. They nailed their yorkers and mixed up their pace quite well. We will keep these things in mind and try to get better in the next game.
"The fact that we fought until the last over with this sort of total onboard should bring in confidence for our bowlers. Though bowlers bowled well, we gave away quite a few easy boundaries. Especially on the leg side, we gave away some six-seven easy boundaries. If we could have done things differently in that regard along with the fielding, things might have panned out differently."
Bangladesh and Pakistan will cross swords again in the 2nd T20I at Lahore tomorrow.