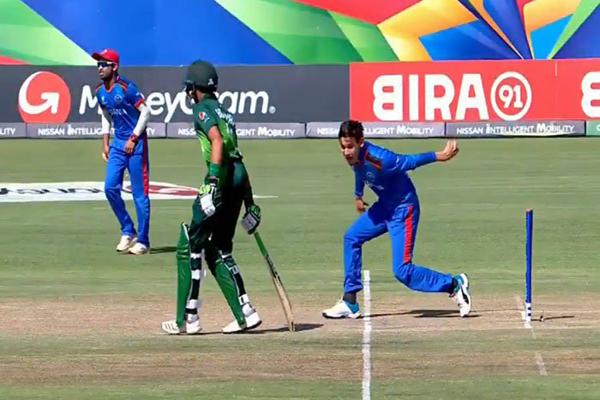 The ongoing ICC U19 World Cup is about to reach its end and the quarter-final match that was held between Pakistan and Afghanistan has led Pakistan into semi-finals against India. The match has ended up with something trending in the world of cricket and that created a sort of conflict as well.
Noor Ahmad has kicked up a social media storm after mankading Pakistan batsman. However, the Afghanistan skipper, Farhan Zakhil has come up with sensible comments in a post-match conference saying that it was not the spirit of the game.
Farhan Zakhil about Noor Ahmad said that To be honest, it was not in the spirit of the game."
Afghanistan captain Farhan Zakhil after the match "To be honest, it was not in the spirit of the game" #U19CWC pic.twitter.com/NFTjr82rbk

— Saj Sadiq (@Saj_PakPassion) February 1, 2020
The Mankad incident in which Afghanistan U19 claimed a Pakistan wicket has lead to a hating debate on Twitter over the legitimacy of the dismissal. Every official has presented their views over the incident. Have a look at some examples:
By law that was a wicket but we shouldn't be encouraging it amongst our youngsters as it's not in the Spirit of the game. #PAKvAFG #CWCU19

— Umar Gul (@mdk_gul) January 31, 2020
Do keepers warn batsmen before stumping them? No. Then why should bowlers warn batsmen before running them out. Mankading is fair and square and within the laws of the game. Only thing against spirit of cricket here is batsmen trying to gain advantage by leaving crease. #U19CWC

— Mazher Arshad (@MazherArshad) January 31, 2020
I fail to understand how cricket is okay with actual cheating but has issues with something that is within the laws of the game i.e; mankading. Itna issue hai tou ban mankading altogether.

— Rehan Ulhaq (@Rehan_ulhaq) January 31, 2020
How cheap Afghans are????

Although it's legal but unethical

کوئی شرم ہوتی ہے کوئی حیا ہوتی ہے

لو خونا شرم کوااااااااااا pic.twitter.com/3chL3jNjWt

— Shoaib Jatt (@Shoaib_Jatt) January 31, 2020
The comments have been alternatively positive or negative according to the different point of views and perceptions of everyone. It is to noted that now Pakistan have made a deserving victory over Afghanistan and are now into semi-finals with India that is to be played later this week.
Also see: