India beat Pakistan in ACC Women's Emerging Teams Asia Cup 2019:
Pakistan Women Emerging Players: 106 all out (46.5/50 overs)
India Women Emerging Players: 109/3 (30/50 overs, target 107)
India Women Emerging Players won the match by 7 wickets with 120 balls remaining.
India Women defeated Pakistan Women by 7 wickets in the fifth match of the Asian Cricket Council Women's Emerging Teams Cup. Pakistan Women lost all their wickets on a total of 106 runs while batting first. India Women chased the target of 107 runs in 30 overs for three wickets. India is now on top of the ACC Women's Emerging Teams Cup points table with 5 points. India has won 2 out of 3 matches they played with one match resulting in being abandoned. Pakistan is on the bottom of the list with 1 point and 0 wins.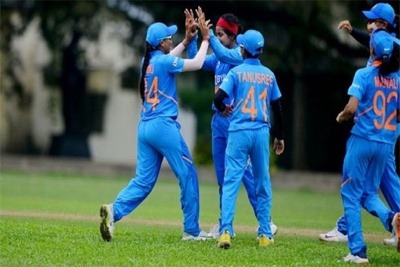 Pakistan Women collapse, captain Devika Vaidya takes 4:
India Women won the toss and decided to field first in the fifth match of the ACC Women's Emerging Teams Cup.  Pakistan Women sent Javeria Rauf and Tuba Hassan to bat first. Javeria Rauf scored 7 runs off 15 balls before losing her wicket to Simran Bahadur on the first ball of the sixth over of the match.
India beat Pakistan by seven wickets in ACC Women's Emerging Teams Asia Cup 2019https://t.co/p1N8k2C9yX pic.twitter.com/mV4Z8npiIj

— PCB Media (@TheRealPCBMedia) October 27, 2019
Tuba Hassan stood out with her innings of 32 runs for 57 balls, the highest individual score from Pakistan's side. Tuba Hassan struck 3 fours and a six before getting dismissed by Sushree Dibyadarshini. Muneeba Ali faced 24 balls for 7 runs before getting bowled by Devika Vaidya, Kaynat Hafeez lost her wicket on a duck, and Huraina Sajjad also got bowled after scoring 4 runs for 18 balls.
Pakistan went from 30/2 to 53/5 in the span of 10 overs. Pakistan Women's captain Rameen Shamim played very sensibly, scoring 31 runs off 80 balls for her team. She struck 2 fours before losing her wicket. Pakistan's wicketkeeper Najiha Aliva got bowled after scoring 10 runs off 40 balls. Fatima Sana and Nashra Sandhu scored 8 and 3 runs respectively, while Maham Tariq and Syeda Aroob Shah got dismissed without scoring any runs.
India Women's captain, Devika Vaidya claimed 4 wickets for 23 runs in her overs for India. Sushree Dibyadarshini also played a major role in restricting Pakistan to a very low total after taking 3 wickets for 16 runs in her 8 overs. Simran Bahadur and Manali Dakshini took 1 wicket each for India.
Nuzhat Parween help India secure their second win in ACC Cup:
India Women required 107 runs from 50 overs to win their second match in the ACC Women's Emerging Teams Cup. India sent Yastika Bhatia and Prativa Rana to bat first. India's first wicket fell after 10 overs in the form of Prativa Rana. Prativa Rana scored 13 runs off 37 balls before being bowled by Fatima Sana. Opener Yastika Bhatia soon followed her opening partner after scoring 17 runs off 47 balls.
India Women's wicketkeeper-batsman Nuzhat Parween secured the win for her team by scoring 44 runs off 68 balls. Her outstanding innings came to an end when she was just 4 runs short of winning the game for her team. Nuzhat Parween struck 7 fours before losing her wicket to Nashra Sandhu on 103 runs. India Women's Captain Devika Vaidya contributed unbeaten 12 runs off 23 balls while Minnu Mani added 6 runs to win the match for her team.
India Women chased the target and scored 109 in 30 overs with 7 wickets and 120 balls still remaining. Pakistan Women's Fatima Sana, Nashra Sandhu, and Syeda Aroob Shah all claimed 1 wicket against India.