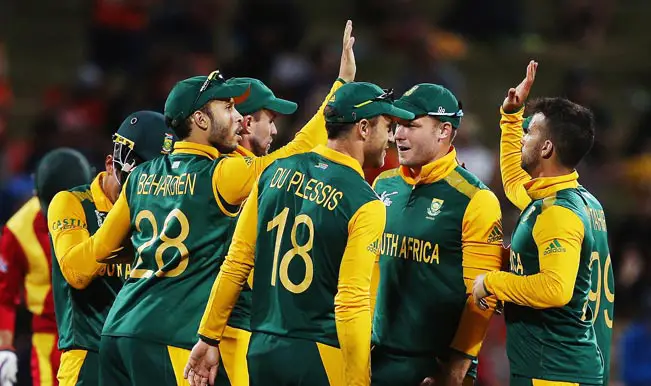 The Cricket World was soon to experience another form of cricket, the 3T Cricket, where the three teams holding 8 players in each would be playing in a single game.
Cricket South Africa (CSA) was to play its first match of the 3T Cricket on 27th June and the three teams were to be led by Kagiso Rabada, AB De Villiers, and Quinton De Kock.
The matches were termed as the solidarity cup because it was to help those affected with the crisis in worst economic conditions by the Coronavirus pandemic.
The 3T cricket has been postponed due to the worst health conditions caused by the Coronavirus and the new dates are to be decided as more work is needed in preparation.
CSA postpones 3T Cricket season amidst the Coronavirus outbreak
"The operational teams behind the solidarity match and event partners in collaboration with CSA, 3TCricket, and [broadcaster] SuperSport met to consider the readiness to host the event on June 27," CSA said in a release on Saturday.
"Following this meeting it has become clear that more work is needed in preparation, including approval. A new date will be announced in due course," CSA further said in the statement.
The rules of the games are as followed:
A game of 3TC cricket consists of 36 overs divided into two halves of 18 overs each. In the first half, each team faces 6 overs from one of their opponents. In the second half of the game, each team resumes batting, facing another 6 overs, but this time from their other opponents.
The rules of game highlights that a match is contested between three teams of eight players each and the team's bat for one inning of 12 overs split between two 6-over periods, facing one opponent in the first half and the other opponent in the second half.
Teams' turns in the first half will rotate from batting to bowling to the dugout. With the starting positions determined by a draw and in the second half, teams bat in order of the highest scores in the first half. Source: GeoSuper
"After the fall of the 7th wicket, the last batter stands alone and can only score in even numbers of runs. If the 7th wicket falls in the first half, the team forfeits the remaining balls in that half and the last batter resumes the innings in the second half says the official rules of the game," the rules state.
"Most runs wins Gold, second Silver, and third Bronze. If 2 teams tie with most runs, super overs decide Gold; if all 3 teams tie, all get Gold; and, in a tie for second, Silver is shared," it adds.
Statement from the partners in the Solidarity match

The operational teams behind the Solidarity match and event partners in collaboration with Cricket South Africa, 3TCricket and SuperSport met to consider the readiness to host the event on 27th June. pic.twitter.com/VqXj61ZUvl

— Cricket South Africa (@OfficialCSA) June 20, 2020
Also, see: