England XI stays strong on day 1 of Tour Match vs New Zealand XI
England XI: 285/1 (66 overs)
England XI won the toss and elected to bat first in the 2-day tour match between England XI and New Zealand XI. England XI looks strong as Dominic Sibley and Zak Crawley both score hundreds on day 1 of the 2-day tour match for their team.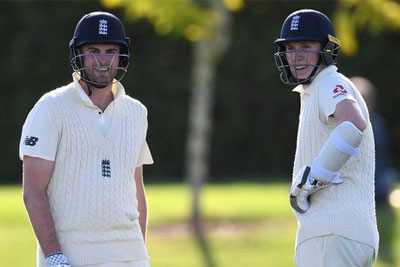 The match received a delayed start from 2:30 pm. Rory Burns and Dominic Sibley came to bat first for their team. Henry Shipley dismissed Rory Burns early into the game for just 23 runs from 41 balls with 3 fours. Dominic Sibley scored 100 runs from 161 balls with 7 fours and a six, while Zak Crawley amassed 103 runs from 137 balls with 13 fours.
The pair retired after scoring their hundreds to give other players a chance to bat and get used to the conditions in the 2-day practice match. Joe Root came to bat and scored 41 from 42 balls with 3 fours and a six till the end of play on day 1. Ollie Pope also remained not out after adding 9 runs from 16 deliveries with a four.
England XI will, most likely, give all their players a chance to bat at the start of day 2, which will give less time for their bowlers to get proper use out of the practice match.
As far as New Zealand XI's bowling goes, Henry Shipley was the only bowler who claimed a wicket for his team. Shipley conceded 44 runs for 1 wicket from his 11 overs. Theo van Woerkom bowled 15 overs for 75 runs, while Benjamin Lister bowled 14 overs for 46 runs. Scott Johnston and Jake Gibson bowled 11 overs each for their team.