Bangladesh vs Zimbabwe 4th match:
Bangladesh: 175/7
Zimbabwe: 136 (20 overs, target 176)
Bangladesh won the match by 39 runs.
Bangladesh defeated Zimbabwe in the 4th match of Bangladesh Twenty20 Tri-Series by 39 runs.
Batting first, Bangladesh gave Zimbabwe a target of 176 runs. Zimbabwe could only score 136 runs in return and lost the game by 39 runs.
Bangladesh introduced 2 T20I debutants: Najmul Hossain Shanto and Aminul Islam.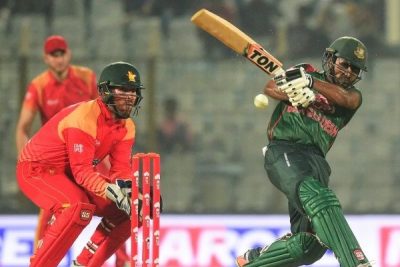 Bangladesh dominates Zimbabwe:
At the start of the 4th T20I, Zimbabwe won the toss and elected to field against Bangladesh.
Bangladesh's debutant, Najmul Hossain Shanto came to bat with Liton Das for Bangladesh.
Najmul Hossain Shanto lost his wicket to Kyle Jarvis in the 5th over of the game after scoring 11 runs off 9 balls for Bangladesh.
Liton Das scored a solid 38 off 22 balls with the help of 4 fours and 2 sixes. Bangladesh's captain, Shakib Al Hasan lost his wicket on just 10 runs off 9 balls.
Bangladesh's wicketkeeper-batsman Mushfiqur Rahim and Mahmudullah took a stand of 78 runs to bring their team in a very stable position in the game. Mushfiqur Rahim scored 32 runs off 26 balls assisting Mahmudullah who played an amazing innings against Zimbabwe's side as he scored 62 runs off 41 balls bringing Bangladesh very close to their score of 175/7.
Zimbabwe's Kyle Jarvis took 3 wickets at the cost of 32 runs against Bangladesh. Chris Mpofu took 2 wickets for Zimbabwe while Ryan Burl and Tinotenda Mutombodzi took 1 wicket each against Bangladesh.
Zimbabwe's wicketkeeper-batsman Brendan Taylor and captain Hamilton Masakdaza came to bat against Bangladesh.
Zimbabwe was not able to perform very well with the bat against Bangladesh as all of their wickets fell very quickly. Zimbabwe's captain Hamilton Masakadza scored 25 off 25 balls but that was not enough as Zimbabwe's score has reached 66/7 with Bangladesh continuously taking wickets one after the other.
At that point of the game, it did not look like if Zimbabwe will even be able to cross the score of 100 runs but Richmond Mutumbani's amazing 54 off 32 with the help of 4 fours and 3 sixes and Kyle Jarvis' 27 off 20 balls pushed Zimbabwe towards their target but that was not enough as Zimbabwe fell 39 runs short against their target of 176 runs in the 20 overs.
Bangladesh was able to take all wickets of Zimbabwe at a score of 136. All of Bangladesh's bowlers did amazingly well against Zimbabwe. Shafiul Islam took 3 wickets at the cost of 36 runs. Mustafizur Rahman and the debutant, Aminul Islam took 2 wickets each while Mohammad Saifuddin and Bangladesh's captain Shakib Al Hasan took 1 wicket each for Bangladesh.
Aminul Islam had a wonderful debut as he took 2 wickets for Bangladesh, one of them being Zimbabwe's captain Hamilton Masakadza who seem to be the only batsman who was able to get past a 2digit score in Zimbabwe's top order.
Bangladesh's Mahmudullah was awarded the Player of the Match award for his amazing performance with the bat. Mahmudullah's much required 62 runs off 41 balls pushed Bangladesh forward towards setting a target of 170plus.
Bangladesh has now qualified for the final of Bangladesh twenty20 Tri-Series where they will most likely meet Afghanistan who is looking unstoppable as they continue their winning streak.
Zimbabwe has yet to win a match in this tri-series as Zimbabwe has lost all 3 games they have played. Zimbabwe's next match is against Afghanistan on Friday 20 September 2019. Zimbabwe have played eight matches against Afghanistan and lost all of them. We look forward to seeing what will be the results of their next meeting.