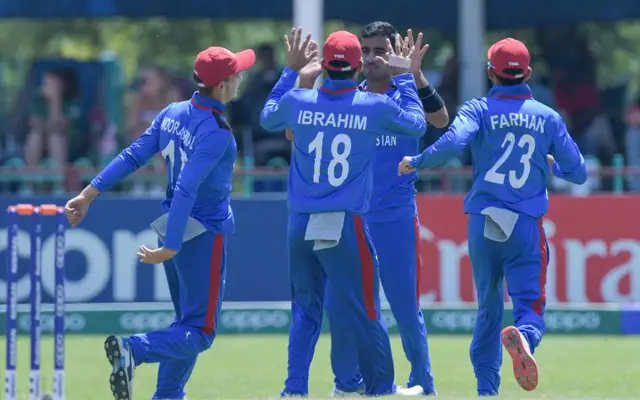 Afghanistan U-19 defeated South Africa U-19 by 7 wickets in the first match of the U-19 World Cup. Afghanistan's Shafiqullah Ghafari was named the "Player of the Match" as he secured 6 wickets for 15 runs in his 9.1 overs.
South Africa won the toss and opted to bat first. The decision to bat first did not prove to be in their favor as they lost their both openers to Fazal Haque for just 7 runs.
South Africa's captain, Bryce Parsons and Luke Beaufort shared a 55-runs partnership to bring their team back into the game.
Skipper Bryce Parsons scored 40 runs from 42 balls and Luke Beaufor added 25 runs from 39 deliveries.
After losing the pair, South Africa's batting line up crumbled against Shafiqullah Ghafari. South Africa U-19's Gerald Coetzee smacked 38 from 23 balls towards the end of their innings but even he fell at the hands of Shafiqullah Ghafari. Gerald Coetzee's 38 took South Africa to 120+ as they finished their innings on 129 after losing all their wickets in 29.1 overs.
Afghanistan required 130 runs to win the match. Their skipper and opening batsman, Farhan Zakhil came along with the 18-year-old Ibrahim Zadran to face the South African bowlers.
South Africa's Achille Cloete dismissed skipper Farhan Zakhil in the 4th over after he had scored 11 runs from 12 balls. Ibrahim Zadran and Imran shared an 80 runs partnership as Afghanistan moved towards a comfortable victory in the opening match of the U-19 World Cup. Imran and Ibrahim Zadran both scored half-centuries for their team.
Ibrahim Zadran scored 52 runs from 72 balls, while Imran contributed 57 from 48 deliveries. Both of them lost their wickets as Afghanistan came closer to victory and Abid Mohammadi, along with Rahmanullah, scored the finishing run as their team clinched victory against South Africa.