UCB vs BLB Live Score, In the Match of ECS T10 Hungary 2021 which will be played at GB Oval, Szodliget. UCB vs BLB Live Score, Match between United Csalad vs Blinders Blizzards Live on 2nd July 2021 Live Cricket Score & Live Streaming.
UCB vs BLB Live Score, UCB vs BLB Live Score Updates
UCB vs BLB Live Score & Live Streaming TV Channels
We Provide Fastest UCB vs BLB Live Score Dream 11 on www.crictribune.com
Live streaming: Livestream of the tournament will also be available on Fox Sports, SuperSport, Willow TV, and Willow HD
Match Detail
Match:            UCB vs BLB Live Score
Date:              2nd July 2021, 2021
Time:              4:30 PM and 6:30 PM
Venue:            GB Oval, Szodliget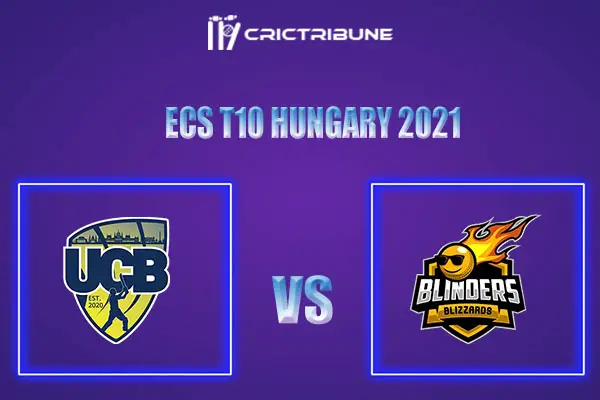 Match Preview
United Csalad will play against Blinders Blizzards in the 19th and 20th matches of ECS T10 Hungary at GB Oval, Szodliget on Friday.
United Csalad aren't having a fruitful tournament as they have registered just two victories and four defeats so far. They haven't played their A-game so far and failed to live up to the expectations in all three departments.
Meanwhile, wooden spoon holders Blinders Blizzards are already out of the tournament. They have managed to win just one game and lost a total of five encounters so far. All they can do from now on is spoil other teams' parties.
UCB vs BLB Squads
United Csalad
Amit Parihar, Ashrith Darapureddy, Bobby Patel, Hrishi Chekuri, Jack Murrell, Madhu Sabbavarapu, Rameez Hashmi, Satyam Subhash, Vinod Kumar, Adam Karn, Ajith Sreedharakurup, Dheeraj Gaikwad, Fasih Atif, Francis Farrell, Raghav Sharma, Satyender Parihar, Hassan Ashfaq, Kamran Shah, Khushal Gabhane, Loysten Sebastian, Rohit Kumar, Anil Pattnaik, Kashif Muhammad, Saad Akib, Vinoth Ravindran
Blinders Blizzards
Amjad Aziz, Muhammad Uzair, Anup Gupta, Ishfaq Bhat, Onur Ozkul, Usama Kajla, Ehsan Sherani, Jassi Singh, Kamran Wahid, Omer Zahid, Mehraj Haris, Ali Shan, Hasnain Meer, Hemanth Perumal, Rahul Goyal, Madhav Gupta, Sachin Chauhan, Zubair Muzaffar Bhat
UCB vs BLB Predicted XIs
United Csalad
Anil Pattanaik (c) (wk), Raghav Sharma, Amit Parihar, Vinoth Ravindran, Ajith Sreedharakurup, Hassan Ashfaq, Satyender Parihar, Hrishi Chekuri, Saad Akib, Ashrith Darapureddy, Francis Farrell
Blinders Blizzards
Anup Gupta, Sachin Chauhan (c) (wk), Amjad Aziz, Rahul Goyal, Omer Zahid, Jassi Singh, Muhammad Uzair, Usama Kajla, Kamran Wahid, Hemanth Perumal, Onur Ozkul
Weather Report & Pitch Condition
The temperature is forecasted to be around 30-34°C on match day, a wind speed of 12 km per hour will blow across the ground and the sky will remain bright and sunny.Pacers will have the upper hand when compared to spinners, with some extra swing on offer. They will look to make the best use of the fine conditions.
UCB vs BLB Lineup
United Csalad
Vinoth Ravindran

Anil Pattanaik

Saad Akib

Muhammad Kashif-II

Satyam Subhash

Ashrith Darapureddy

Bobby Patel

Rameez Hashmi

Sabbavarapu Madhu

Jack Murrell

Vinod Kumar

Adam Karn Tabernacle

Hrishikesh Chekuri

Hassan Ashfaq

Amit Parihar

Khushal Gabhane

Loysten Sebastian

Rohit Kumar

Kamran Shah

Dheeraj Gaikwad

Ajith Sreedharakurup

Francis Farrell

Fasih Atif

Satyender Parihar

Raghav Sharma
Blinders Blizzards
Sachin Chauhan

Zubair Muzaffar-Bhat

Anup Gupta

Usama Kajla

Madhav Gupta

Ishfaq Bhat-1

Onur Ozkul

Omer Zahid

Muhammad Hasnain Meer

Amjad Aziz

Rahul Goyal

Ali Shan-1

Hemanth perumal

Muhammad Uzair

Mehraj Haris

Kamran Wahid

Ehsan Sherani

Jassi Singh-1

Mohit Kundlia
Suggested Playing XI for UCB vs BLB Dream11 Fantasy Cricket
Fantasy Suggestion #1: Vinoth Ravindran, Sachin Chauhan, Ashrith Darapureddy, Hrishi Chekuri, Usama Kajla, Amit Parihar, Omer Zahid, Amjad Aziz, Francis Farrell, Kamran Wahid, Muhammad Uzair
Captain: Omer Zahid Vice-captain: Amit Parihar
Fantasy Suggestion #2: Vinoth Ravindran, Ashrith Darapureddy, Hrishi Chekuri, Usama Kajla, Amit Parihar, Hassan Ashfaq, Omer Zahid, Amjad Aziz, Ajith Sreedharakurup, Kamran Wahid, Muhammad Uzair
Captain: Ashrith Darapureddy Vice-captain: Ajith Sreedharakurup