LIE vs GEN Live Score, LIE vs GEN In the Match of ECS Belgium 2022, which will be played at Vrijbroek Cricket Ground in Mechelen, Belgium LIE vs GEN Live Score, Match between Liege vs Gent Live on 4th September 2022 Live Cricket Score & Live Streaming.
LIE vs GEN Live Score, LIE vs GEN Live Score 
LIE vs GEN Live Score & Live Streaming
We Provide Fastest LIE vs GEN Live Score Dream 11 on www.crictribune.com
Live streaming: Livestream of the tournament will also be available on Fox Sports, SuperSport, Willow TV, and Willow HD
Match Detail
Match:                                           LIE vs GEN Live Score,
Date:                                             4th September 2022
Time:                                            12:00PM
Venue:                                        Vrijbroek Cricket Ground in Mechelen, Belgium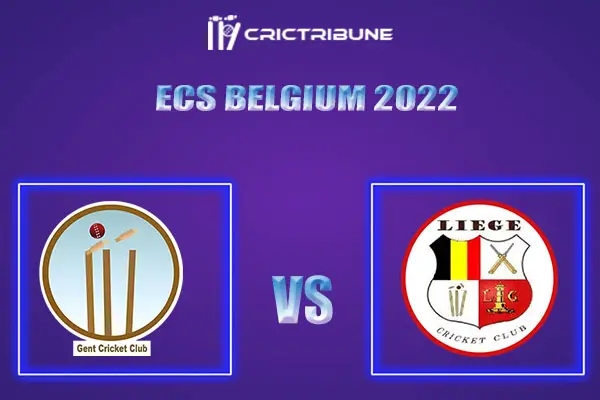 Match Preview
Liege will take on Gent in the 26th match of the ECS T10 Belgium 2022, at the Vrijbroek Cricket Ground in Mechelen. Liege are heading into this match struggling with 2 consecutive defeats in their previous matches. Gent, on the other side, are starting their campaigns in this match.
Both the teams have some capable players in their arsenal. Umair Butt and Ehsanullah Ibrahimkhel will be the key players for Liege whereas Mamoon Latif and Omid Malik Khel will be the star players of Gent. This promises to be an exciting match as Liege will desperately be looking to make a comeback in this match whereas Gent will look to start their tournament campaign on a positive note with a win.
LIE vs GEN Squads
Squad of Liege
Aamir Nadeem, Adnan Razzaq, Afzal Masih, Ali Raza, Almazi Bilal, Danish Aziz, Ehsanullah Ibrahimkhel, Ghuman Ali, Gurjinder Singh, Hamza Minhas, Harjot Singh, Haroon Sarkani, Hussainkhel Forqanullah, Majid Mahmood, Mehran Masih, Nishan Singh, Pardeep Singh, Saad Hassan, Safi Majid, Safi Walliullah, Umair Butt, Zulqarnain Munawar.
Squad of Gent
Ali Raza, Anna Khan, Azan Malik, Baber Butt, Esmat Husseinkhel, Faisal Khaliq, Hakimi Nangyalay, Harshit Tanwar, Ibrahim Jamali, Imam Zertish, Jabir Syed, Jawad Ghafoor, Mahbubullah Rahmadzai, Majid Ali, Mamoon Latif, Mohammad Sajad Ahmadzai, Mohinder Deepak Balli, Muhammad Arshad, Muhammad Sohail, Omid Malik Khel, Reyhan Faiz, Saif Rehman, Sear Malik Khel, Wadood Abdul, Waleed Azhar, Zahid Durani.
LIE vs GEN Predicted XIs
Weather Report & Pitch Condition
On Monday, the weather in Mechelen is expected to be Cloudy. During the game, the temperature is expected to be around 23 degrees Celsius. The humidity level will be around 49% with a wind speed of 11 km/h. there are 10% chances of precipitation.
The pitch at Mechelen should be ideal for batters. the bowlers may get some assistance in the early overs, but they must bowl economically and take wickets early on. Batters must be aggressive and try to exploit the short boundaries if they bat first. A total of 110 runs in the first inning would be great.
Wicket Keepers — H Singh
Batters — F Khaliq, U Butt, F Hussainkhel
All-rounders — M Latif, E Ibrahimkhel, S Majid, R Faiz
Bowlers — A Razzaq, M Sajad Ahmad, W Abdul