Pakistan's head coach and chief selector, Misbah-ul-Haq:
Misbah-ul-Haq, Pakistan cricket team's head coach and chief selector, talked about how Pakistan is struggling in all departments of cricket following their defeat at the hands of Sri Lanka's side, who were lacking their 10 key players. Misbah also defended his decision to bring back Umar Akmal and Ahmed Shehzad into the national squad.
Since the last T20 World Cup in 2006 to the end of 2018, Pakistan has played a total of 33 T20I matches, winning 29 of them while losing only 4 matches. Pakistan has played a total of 6 matches in 2019, losing 5 matches while winning just 1. This sudden decrease in the top-ranked T20I side's performance is a cause of worry for the current players and the head coach Misbah.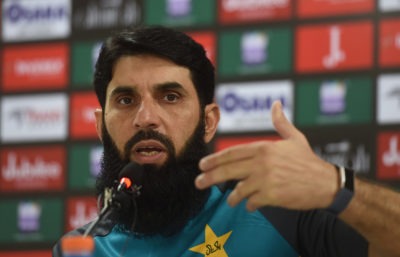 Misbah-ul-Haq said in his post-match press conference that losing is not good against a team that is without their major players, and it is an eye-opening situation for all of us. Misbah clarified that they can see the flaws in every department of the game.
Misbah explained that there was a clear difference between the two teams, as despite being a very inexperienced team, Sri Lanka were disciplined and did everything right, while Pakistan on the other hand completely failed to implement their plan.
Misbah-ul-Haq's decision to bring Umar and Shehzad back:
As Misbah-ul-Haq experimented with bringing Umar Akmal and Ahmed Shehzad into the team, they had to drop Fakhar Zaman for the first T20I and open the innings with Babar Azam and Ahmed Shehzad, sending Umar Akmal at one down. The three of them lost their wickets and left the team hanging on a score of 22 for 3 while chasing the target 165 runs, in the fifth over of the match.
Misbah brought Fakhar Zaman back into the second T20I to open the game as they sent Ahmed Shehzad at one down, while Umar Akmal got pushed to no. 5. Pakistan team had to replace Iftikhar Ahmed, who was the top-scorer for Pakistan in the first T20I to make a place for Fakhar Zaman. Misbah-ul-Haq was once again disappointed by the team as Pakistan lost all 5 of their top-order batsman on 52 runs while chasing the target of 182 runs as they went ahead to be defeated by Sri Lanka by 35 runs.
Ahmed Shehzad and Umar Akmal's return to the team had raised some eyebrows, as Ahmed Shehzad scored a total of 17 runs in the two matches, while Umar Akmal was dismissed on the very first ball in both T20Is against Sri Lanka.
Misbah clarified that he is answerable for Pakistan's performance but to build up a good team you need to do some experiments to get the answers. Misbah-ul-Haq further added that we need to show some patience and wait for the next series to find answers.
Misbah explained that there are a lot of reasons for his experimentations, as they are the top-ranked team in the world but they are too dependent on Babar Azam scoring runs for Pakistan, and with Babar not scoring in the team's two T20I matches against Sri Lanka, they were poorly exposed.
Misbah-ul-Haq said that they need to find out six or match-winners and more dependable batsmen, they need powerhouses in the top and middle order, and in bowling, they need to take wickets upfront and in the death overs of the match and the Pakistan team also need to have good finishers.
Misbah said that the team is struggling in every department, and we did not play our strengths in the recent matches and could not deliver. Misbah-ul-Haq expressed that they are looking for more batsmen rather than just relying on one or two.