Virat Kohli's 7000 runs in test:
India's captain, Virat Kholi required exactly 200 runs to reach 7000 total runs in Test cricket. He was at 6800 runs before the start of India's second Test against South Africa. India's captain Virat Kohli achieved the feat in a single inning, as he remarkably scored his seventh double-hundred in India's first innings against South Africa in their second Test.
It took 138 innings for the Indian batsman to complete 7000 Test runs, which is the fourth-quickest in terms of innings. He shares his record with Garry Sobers and Kumar Sangakkara who also completed their 7000 Test runs in 138 innings. Wally Hammond of England achieved the record in just 131 innings, while it took Virender Sehwag 134 and Sachin Tendulkar 136 innings.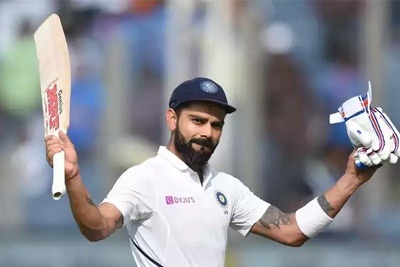 Virat Kohli's seventh double-hundred:
Virat Kohli remained not out after amassing a total of 254 runs off 336 balls. Kohli struck a total of 33 fours and smacked 2 huge sixes. He declared India's innings on 601/5 after Ravindra Jadeja lost his wicket to Senuran Muthusamy, after scoring 91 runs off 104 balls. Kohli's highest individual score was 243 runs, before his magnificent innings of 254 runs while remaining not out against South Africa in their second Test. Kohli also became the seventh captain to score a double-hundred against South Africa in a test match.
Kohli took the record of the highest individual score by an Indian captain against South Africa with his double-century, which was a score of 179 runs by Sachin Tendulkar.
Virat Kohli has now scored a total of seven double hundreds, the joint fourth-highest. He shares his spot with Mahela Jayawardene of Sri Lanka and Wally Hammond of England, who both have scored seven double-centuries throughout their career. Don Bradman holds the title of most double-hundreds by a player which is 12. The second on the list is Kumar Sangakkara with 11 hundred and the third is Brian Lara with 9 double-tons to his name.
Virat Kohli surpassed Don Bradman to record the most number of 150plus scores as a captain. Kohli has 9 150plus scores as a captain while Don Bradman had 8 150plus scores as Australia's captain. Kohli also surpassed Sachin Tendulkar and Virender Sehwag after scoring seven double-tons, while both of them scored six double-centuries throughout their careers.
Virat Kohli has now scored a double-century against six different cricket teams which include: Bangladesh, England, New Zealand, South Africa, Sri Lanka, and West Indies. Kumar Sangakkara of Sri Lanka and Younis Khan of Pakistan have done this. The only team against whom Virat Kohli has not scored a double-ton is Australia.
Only five Indian batsmen have been able to go past a score of 250 in Tests. VVS Laxman, Virender Sehwag, Rahul Dravid, and Karun Nair share this record with Virat Kohli. Virender Sehwag has scored 4 250plus scores by himself, while all the others have made one each. Virat Kohli is also the first Indian captain to make a 250plus score.