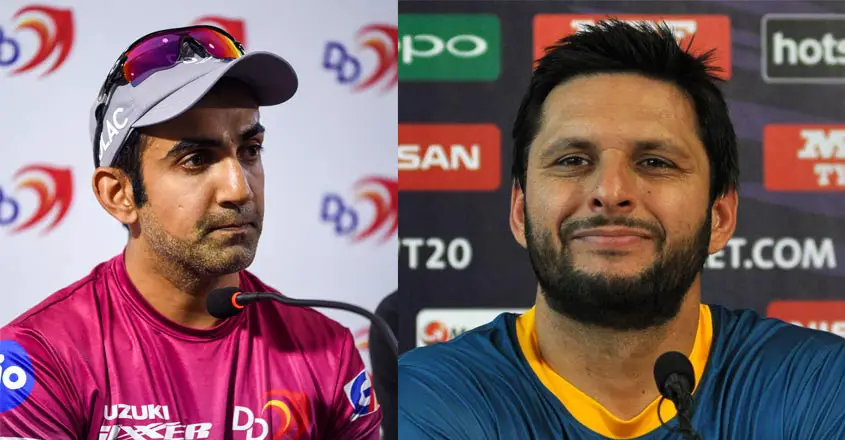 The former Indian cricketer and at present, a politician, Gautam Gambhir, is always known to have fuming fights with Pakistani graceful and well-known cricketer, Shahid Afridi. Since 2007, both the players have been the part of a rivalry conflicting controversies.
Recently, in an interview with Zainab Abbas, Afridi has claimed Gambhir as a human with problems whom he used to like once as a cricketer. Using Upton's statements in his book 'The Barefoot Coach' as a card, Afridi says that even he has termed Gambhir as a negative and pessimistic sort of guy.
Shahid Afridi: Gautam has problems as a human
"As a cricketer, as a batsman, I've liked him always but as a human being he sometimes says certain things, gives the certain treatment that you feel just let it be, he has some problems. His physio has already highlighted that," Afridi was quoted as saying to Zainab Abbas in an interview.
Upton, in his book 'The Barefoot Coach', wrote that Gambhir was "mentally the most insecure, negative and pessimistic". "Using the popular notion of mental toughness, he was one of the weakest and mentally most insecure' people I have worked with," Upton wrote in his book.
Replying to Upton's statement, Gambhir said that his aggressiveness was due to his aim of seeing India at top and the cravings that never got satisfied even after scoring a hundred.
Replying to the same, Gambhir mentioned. "I wanted myself and the Indian team to be the best in the world. That's why I was not satisfied even after scoring 100 as it has been mentioned in Paddy's book. I see nothing wrong there. As a driven individual, I have tried to raise the bar for myself alone."
Also, see: