MR vs CTL Live Score, In the Match of ECS T10 Barcelona 2021, which will be played at Videres Cricket Ground. MR vs CTLLi ve Score, Match between Melbourne Moncada Royal Catalunya CC Live on 3rd November, 2021 Live Cricket Score & Live Streaming.
MR vs CTL Live Score, MR vs CTL Live Score Updates
MR vs CTL Live Score & Live Streaming TV Channels
We Provide Fastest MR vs CTL Live Score Dream 11 on www.crictribune.com
Live streaming: Livestream of the tournament will also be available on Fox Sports, SuperSport, Willow TV, and Willow HD
Match Detail
Match:                          MR vs CTL
Date:                            3rd November,  2021
Time:                           12:00 AM IST & 3rd November at 7:30 PM Local
Venue:                          Videres Cricket Ground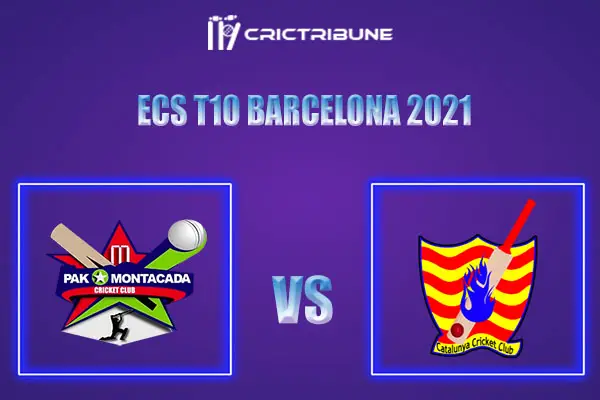 Match Preview
Catalunya CC participated in two ECS tournaments coming into this one. They were crowned champions in one and ended runners-up in the other. Catalunya CC are among the favourites to win this tournament and are a strong side.
Montcada Royal will play their opening match of this season of the FanCode ECS T10 Barcelona whereas Catalunya Cricket Club will play their second game of this season just after completing their first game against the Hawks.
Muhammad Armghan Khan has scored a total of 519 runs from 23 T10 games in 2020 and 2021, being one of their key batters. Razaqat Ali is a notable name in their bowling line-up. He has picked 23 wickets from 25 T10 games in 2020 and 2021. Ali is also handy with the bat.
MR vs CTL Squads
Montcada Royal:
Aamir Shahzad, Adeel Raja, Arif Majeed, Asad Afzaal, Farrukh Sohail, Ghulam Sabar, Hamza Saleem, Ibrar Hussain, Imran Amjad, Jehanzaib Asghar, Junaid Ali, Kashif Shafi, MD Umar Waqas, Mohsin Ali, Muhammad Asif, Muhammad Ihsan, Muhammad Kamran, Muhammad Naeem, Muhammad Saqib, Owais Nazir, Sarfraz Anwar, Toqueer Shabbir, Usman Ul Haq, Zeb Ali
Catalunya Cricket Club:
Ali Azam, Ameer Abdullah, Asim Raja, Haider Ali, Hamza Nisar, Khaled Kaleem, Malik Zeeshan, Muhammad Armghan Khan, Muhammad Basit, Muhammad Mughal, Mujahid Ali Bajwa, Nadim Hussain, Naveed Aslam, Nisar Ahmed, Rauf Zaman, Razaqat Ali, Sabteen Haider, Sanwal Masood, Shahbaz Shaukat, Syed Sherazi, Yasir Ali
MR vs CTL Predicted XIs
Montcada Royal
Muhammad Ihsan, Sarfraz Anwar, Kashif Shafi, Muhammad Naeem, Mohsin Ali, Farrukh Sohail, Hamza Saleem, Ibrar Hussain, Asad Afzaal, Kamran Muhammad, Imran Amjad
Catalunya CC
Ameer Abdullah, Naveed Aslam, Muhammad Armghan Khan, Nisar Ahmed, Hamza Nasir, Mohammad Basit, Yasir Ali, Ali Azam, Razaqat Ali, Syed Sherazi, Asim Raja
Weather Report & Pitch Condition
There is not much change in the behaviour of the surface. The ball will come easily onto the bat, and the batters need to be patient and look to play as long as possible. No score is not safe on this venue.
MR vs CTL Lineup
Catalunya
Rauf Zaman

Zeeshan Asghar

Naveed Aslam

Muhammad Armghan Khan

Nisar Ahmed

Hamza Nisar

Mujahid Ali Bajwa

Muhammad Mughal

Ali Azam

Razaqat Ali

Syed Sherazi

Asim Javeed Raja

Shaukat Shahbaz

Ameer Abdullah

Haider Ali-I

Khaled Kaleem

Mohammad Basit

Yasir Ali

Nadim- Hussian

Sabteen Haider

Sanwal Masood
Montcada Royal
Muhammad Ihsan

Toqueer Shabbir

Kashif Shafi

Muhammad Naeem

Usman Ul Haq

Ghulam Sabar

Farrukh Sohail

Hamza Saleem

Ibrar Hussain

Jahanzaib Asghar

Muhammad Umar Waqas

Imran Amjad

Aamir Shahzad

Junaid Ali

Muhammad Asif II

Raja Adeel

Sarfraz Anwar

Owais Nazir

Zeb Ali

Arif Majeed

Muhammad Saqib

Asad Afzaal

Kamran Muhammad

Mohsin Ali Ali
Suggested Playing XI for MR vs CTL Dream11 Fantasy Cricket
Keeper – Muhammad Ihsan (C), Rauf Zaman
Batsmen – Naveed Aslam (VC), Muhammad Naeem, Muhammad Armghan Khan
All-rounders – Hamza Saleem, Yasir Ali-I, Jahanzaib Asghar
Bowlers – Syed Sherazi, Shaukat Shahbaz, Junaid Ali