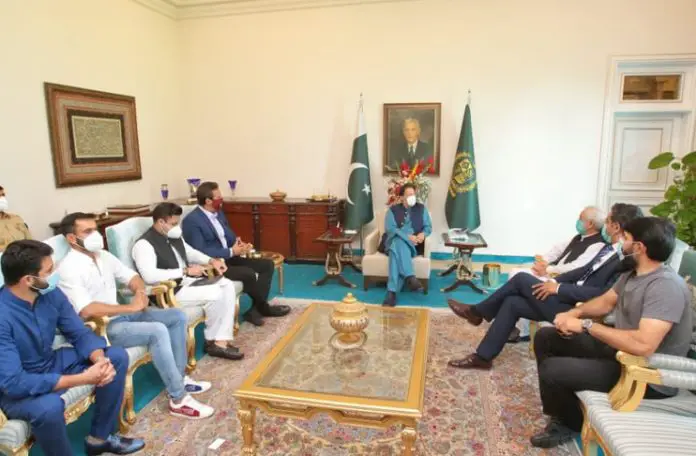 Misbah ul Haq and Azhar Ali's off-screen meet-up with the Prime minister of Pakistan, Imran Khan, caught a camera light, and the duo fund themselves in trouble. Consequently, they have clearly justified their meet-up with Khan and revealed that none of the discussion goes against the policies encountered by the Pakistan Cricket Board (PCB).
Their reason to meet with the PM based on the resumption of departmental cricket that Khan earlier denied. Azhar, Misbah discussed that many players have been unemployed due to the newly followed structured, and on behalf of many players, they requested him to look upon the matter of reviving departmental cricket in Pakistan.
However, the meeting ended with no result as Khan remained stick on his decision. Notably, the PCB has warned the duo to be careful from the next time.
Misbah and Azhar clarifies their meetup with PM Imran Khan
"I have convinced with great difficulty Misbah, Hafeez, and Azhar that the new cricket structure must be allowed to grow and become strong," Khan said later. "I told them that every new system had its teething problems and it takes some time but I can assure you once it is established, it will ensure the raw talent we have in cricket will come through polished and groomed for international cricket." Khan earlier added.
"I am hopeful that we will be able in a position to field a very strong team for the next World Cup and do well in it thanks to this new system," he said. "Despite this system, we won because of the immense raw talent we have. Nowhere does a player graduate straight into the national team from junior or club level cricket." he had said.
'We didn't go against PCB's policy' Misbah, Azhar clarify over meeting with PM Imran Khan on the resumption of departmental cricket.
'We didn't go against PCB's policy' Misbah, Azhar clarify over meeting with PM Imran Khan on resumption of departmental cricket#ARYSports #PCB pic.twitter.com/1SgKpQ9qJZ

— ARY Sports (@ARYSports_Web) October 9, 2020
ALSO, SEE: