Mayank Agarwal and Rohit Sharma set new records for India:
Mayank Agarwal and Rohit Sharma displayed an outstanding performance with the bat as they stood like a wall against South Africa's bowling attack. Rohit Sharma, who had opened the match for the first time for India in tests, scored a magnificent 176 runs off 244 balls.
Rohit Sharma's score of 176 runs is his second-highest ever in tests. Rohit's highest score in test is 177 runs, just 1 run ahead of his 176 runs this innings, which he scored on his test debut against West Indies in 2013.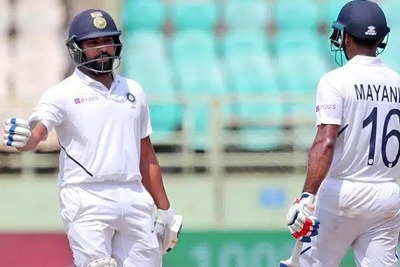 Mayank Agarwal's double-hundred:
Rohit Sharma's opening partner, Mayank Agarwal converted his maiden test hundred into a 200plus score as he piled 215 runs off 371 balls against South Africa. Mayank Agarwal is the 4th batsman ever for India to convert a maiden test hundred into a 200plus score. The other Indian batsmen to successfully convert their maiden test hundreds into a score of 200plus are Dilip Sardesai (200*), Vinod Kambli (224), and Karun Nair (303*).
It took Mayank Agarwal a total of 23 fours and 6 sixes to reach the score of 215 runs with a strike rate of 57.95.
Mayank Agarwal and Rohit Sharma's opening stand:
Rohit Sharma and Mayank Agarwal together took the 3rd highest ever opening stand for India in tests, as the two of them scored 317 runs for the first wicket. The highest ever opening partnership for India in test was by Vinoo Mankad and Pankaj Roy, who scored 413 runs together against New Zealand in Chennai, 1956. The second-highest ever opening partnership was between Virender Sehwag and Rahul Dravid, as they scored 410 runs together against Pakistan in Lahore, 2006.
Rohit Sharma (176) and Mayank Agarwal (215) also scored a total of 391 runs together, which is the third-highest total in a Test innings by Indian batsmen. The highest is a total of 404 runs put together by Vinoo Mankad (231) and Pankaj Roy (173) against New Zealand in 1956.
The total of 391 runs between Rohit Sharma's 176 runs and Mayank Agarwal's 215 runs is also the second-highest opening partnership against South Africa. The highest opening partnership against South Africa is also by Indian batsmen: Virender Sehwag (319) and Wasim Jaffer (73) scored a total of 392 runs against South Africa, just 1 run short of what Mayank and Rohit put together.
India vs South Africa, day 2 of the 1st Test:
After Rohit Sharma lost his wicket to Keshav Maharaj after scoring 176 runs, and Mayank Agarwal lost his to Dean Elgar after his 215 runs, none of India's other batsmen scored that much individually. India finally declared their innings at the score of 502 runs for 7 wickets.
South Africa's Keshav Maharaj was the most successful bowler for his team as he took 3 wickets. Vernon Philander, Dane Piedt, Senuran Muthusamy, and Dean Elgar took 1 wicket each against India.
South Africa sent Dean Elgar and Aiden Markram to bat first against India's bowling. India's spinners, Ravichandran Ashwin and Ravindra Jadeja snatched a few early wickets of South Africa very quickly into the game. Aiden Markram got bowled by Ashwin after scoring just 5 runs while Theunis de Bruyn got caught behind on Ashwin's bowl for just 4 runs.
Dane Piedt also got bowled out on a duck by Ravindra Jadeja as South Africa's Dean Elgar stood steadfastly on the pitch with his 27 runs off 63 balls. On the end, Temba Bavuma is also not out with his 2 runs off 7 balls against India. South Africa's score at the end of day to is 39/3 with trail by 463 runs.